[nextpage title="Technology" ]
Canon vs Nikon is a question many photographers have struggled with, both new and old. How do you know which camera system is best?
Of course, what matters most is not the camera but the creative eye behind it; that said, Canon and Nikon cameras each have some technological advantages they can offer photographers depending on what it is you like to shoot. Read on, as we attempt to answer the impossible question: Canon or Nikon?
We know Sony makes great cameras. And Fuji. Olympus too. Pentax. Panasonic. We're not doubting their offerings in this post at all. In fact, most of us here at Camera Jabber shoot with those brands.
But the fact is that Canon and Nikon are giants in the camera industry, and the vast majority of photographers shoot with their DSLRs and lenses, flash systems and accessories. And they have done so for years.
What's more, most beginner photographers looking to make the jump up to a more serious camera typically consider Canon vs Nikon before the other great brands out there. We're not saying it's right! It's just how it is. It's the result of remaining a strong brand over many, many years; but also, it's the fact that Canon and Nikon do offer some of the best cameras and lenses on the market.
So with that in mind, we're here to help you choose when considering the Canon or Nikon system. And rest assured that whichever brand you choose, you are investing your money in a quality brand supported by well-built products and a strong support system that caters for everyone from beginner photographers to professionals.
While some photographers may switch systems, jumping from Canon to Nikon or Nikon to Canon (and sometimes back again!), here in the real world most of us can afford to do this only once. We buy our camera body and accumulate a few lenses, and then we're locked into that system for years, often decades.
But that doesn't mean we can't peer through the keyhole and see what the other side is doing every now and then as the two companies joust endlessly to leapfrog one another in technology.
Or perhaps you already know have a Canon or Nikon camera? In which case, you might want some more specific information from some of our other camera buyers' guides:
Here is our view of the current state of the Nikon and Canon DSLR systems…
High-megapixel sensor
Nikon closed the gap with the D850, but the 50-megapixel sensor in the Canon EOS 5DS / R still reigns supreme. Advantage Canon.
If you're looking for the highest resolution possible, both the Canon and Nikon DSLR systems offer a number of excellent, if pricey, options. The Canon EOS 5DS (and EOS 5DS R), announced in 2015, offers a market-leading 50-megapixel sensor that captures a stunning level of detail. Meanwhile, the Nikon D850, announced in 2017, brings 47.5 million pixels to the table.
And while the D810 may seem a little long in the tooth, this full-frame (FX format) DSLR still offers a staggering 36.3 megapixel sensor.
Honestly, you'd need to blow up your images pretty big to notice a difference in image quality between the two cameras, but many people do.
And there are, of course, disadvantages of having that much resolution – camera shake, for one, become a lot more noticeable – but if megapixels is your thing, then the 5DS claims the trophy.
What's more, the Canon system also offers – for about the same money as the D810 – EOS 5D Mark III. Its sensor offers 'only' 22.3 megapixels, but the files it produces are considerably smaller.
Vari-angle touchscreen LCD
Canon was the first of the two to add touchscreen functionality, and it is more pervasive through its range than Nikon. Canon wins!
Vari-Angle, flip-out LCDs, swivel screens, whatever you want to call them… these used to be scoffed at by many photographers when they were first introduced some seven years ago, but as people have grown to appreciate their ability to help compose images at improbably angles and aid with filmmaking, vari-angle LCD screens have become a must-have feature that photographers now expect when buying a new camera.
What's more, the introduction of a touchscreen increases the convenience tenfold, allowing photographers to access direct controls from the LCD.
Canon and Nikon are sometimes chided for being slow to adopt the technology that compact system cameras have pioneered, but it's worth remembering that Nikon introduced its first vari-angle LCD way back in 2009 with the D5000, while Canon launched its first flip-out screen with the EOS 60D in 2010.
However, it took until 2012 for one of the big two to introduce a touchscreen element to their vari-angle screens, Canon being the first with the EOS 650D (Rebel T4i) in 2012, and has continued to include the technology with its subsequent releases in the EOS 700D (Rebel T5i), 100D, 70D and 80D.
Nikon, on the other hand, took a while to embrace vari-angle touchscreens in its DSLR range, introducing it in 2015 with the D5500 and again with the D5600. However, the company explored this option in its Nikon 1 compact system camera range beginning with the Nikon 1 V3 some years ago. The full-frame Nikon D850 also incorporates the functionality for the first time in an FX format camera.
No anti-aliasing filter
Nikon has pioneered the trend toward no low-pass filters and makes it available throughout its DSLR range. Nikon wins!
Most digital cameras have what is called a low-pass, or an anti-aliasing, filter built into their imaging sensors to help reduce the effects of moiré. What is moiré? Those bands of colour that you sometimes see in images with very fine, repeating patterns… that's a moiré.
And your camera's anti-aliasing filter limits this effect by effectively softening the image in-camera.
Beginning with the D800E in 2012, Nikon began introducing a new type of filter that doesn't employ this softening effect. The company rolled the filter out across its enthusiast range beginning with the D7100, D5300 and D3300, and this trend has continued.
By lacking a low-pass filter, these Nikon DSLRs can record sharper images, leaving photographers to deal with any cases of moiré at the post-processing stage.
For the longest time Canon didn't release its own version of this functionality, save for its astrophotography cameras the EOS 20Da and its successor, the EOS 60Da, which included a modified low-pass filter to allow more infrared light through to the sensor, allowing photographers to capture the red colour of nebulae.
In recent years, Canon has come up with its own answer to this technology in the form of dual anti-aliasing filters, one of which cancels out noise and allows the cameras to capture finer details. But Nikon's head start has allowed it to refine its technology and expand it across a wider range of cameras in its line-up.
SEE MORE: What is an anti-aliasing filter in a camera: explain it like I'm 5
Hybrid autofocus
Despite the Nikon D850's fantastic AF, it still doesn't match any recent Canon SLR for AF in Live View mode (or a decent CSC, for that matter). Canon is the best choice, for now.
If you shoot with a DSLR the chances are your camera uses two types of autofocus systems: phase detection and contrast detection AF. Phase detection AF enables you to focus through your viewfinder, while contrast detection allows for more accurate – but slower – focusing on your Live View screen.
It's worth noting that these two systems aren't compatible, as to activate Live View the mirror has to be locked up out of the way – which means that no light can be diverted to the dedicated phase detection AF sensor.
This incompatibility can be a problem for some photographers, and Canon has addressed it by introducing its hybrid autofocus system for Live View still and movie shooting. Canon's Hybrid CMOS AF effectively combines both systems by embedding phase detection AF in the camera's imaging sensor to put the focus in the zone, allowing contrast detection to fine-tune it.
You can find this technology in all of Canon's entry-level DSLRs.
What's more, beginning with the Canon 70D, some EOS DSLRs offer a more advanced 'Dual Pixel CMOS AF' system. This allows some 80% of the sensor area to be used for phase detection AF before reverting back to image recording when you take a picture.
For still images this might not seem like a real advantage, but for those shooting video this feature really comes into its own, offering you smooth, continuous autofocus.
Nikon's hybrid AF system is currently restricted to its Nikon 1 series of compact system cameras.
Video
Both manufacturers now offer 4K video recording in their high-end DSLRs, but Canon probably has the edge in AF and also offers a range of dedicated cinema lenses.Advantage Canon. But Nikon isn't far behind.
This was a tough category. While Nikon gets props for releasing the first DSLR able to record high definition video with the very capable – and still current! – D90, it was Canon that really took DSLR video to the next level, unveiling 1080p Full HD video with the EOS 5D Mark II.
The 5D Mark II was a groundbreaking camera that was adopted by countless independent filmmakers who were besotted by its capabilities. In fact, the 5D Mark II has been used to shoot everything from Oscar-winning documentaries to big-budget Marvel action movies.
All that said, Nikon is no slouch in this area, and with the D800 placed its full HD-capable cameras in the hands of filmmakers and television news crews worldwide.
Both Canon and Nikon DSLRs – across the range – capture high-quality, full HD video at a wide range of frame rates, and many new models offer 4K recording. Both brands also offer photographers a number of manual exposure controls, jacks for stereo sound recording and headphone audio monitoring,
As we mentioned above, though, Canon's Dual Pixel CMOS AF is the first of the big two manufacturers to offer a viable focus tracking system for videographers. What's more, its range of lenses featuring STM (Stepping Motor) provide quiet, smooth autofocus whilst filming.
Body Design & Handling
The big difference in design falls in the mid-range and high-end DSLRs. Canon and Nikon DSLR designs are equal in quality and ease of use.
It's easy to think that there isn't much difference between cameras anymore, but the truth is there are a number of subtle differences between Canon and Nikon camera bodies and the way that they handle.
And, really, how comfortable a camera feels in your hand and how easy it is to access the controls that are important for you is perhaps the most important element of any camera you buy.
The most obvious difference between Canon vs Nikon DSLRs comes in the mid-range 'enthusiast' bodies and the professional cameras.
Nikon stands out, offering photographers two distinct command dials: one on the back of the camera and one on the front of the grip. What's more, there is a multi-selector tool on the rear of the camera.
Canon, on the other hand, employs a large Quick Control Dial on the back of its cameras, and also offers a command dial near the shutter button and, on many of its cameras, a multi-controller for shifting the AF point.
Another key difference is that Nikon's lens mounting, focusing, zooming and exposure compensation are all carried out in the opposite direction to Canon's. This won't matter to you if you choose one system and stick with it, but should you ever decide to switch from Canon to Nikon or vice versa this can take some getting used to and slow you down.
[/nextpage]
[nextpage title="Lenses" ]
Canon vs Nikon: lens choices
Nikon's continued use of the F mount gives greater interchangeability of lenses than Canon
Despite the fact Nikon and Canon each have their own unique set of lenses, the two manufacturers are pretty evenly matched when it comes to optics.
Nikon's line of Nikkor optics has a long history, with more than 85 million lenses produced in its 83 years of existence. Canon's EOS system, meanwhile, is still a spritely 28 years old, but the company has somehow managed to shift more than 100 million of its EF lenses in that shorter time.
Does this mean Canon lenses are better? Not necessarily. Nikon, for instance, still employs in its DSLRs the same F-mount that it debuted in 1959 with its storied Nikon F camera.
What this means is that Nikon DSLR users can mount all those old manual focus Nikkor lenses. Likewise, many modern Nikkor AF less will work on the original Nikon F.
Of course, there are some incompatibilities. Older lenses will need to be chipped to enable the camera's exposure meter to work, while modern 'G' Nikkor lenses, which have no aperture ring, won't work on manual focus SLRs. But there is still something really nice about that interchangeability.
Below we'll take a look at some of the lens options from each manufacturer. Obviously Canon and Nikon both have an extensive back catalogue of discontinued lenses too, particularly Nikon, but we're focusing on a selection from the current ranges.
Nikon continues to use the F-mount in its DSLRs, a lens mount that made its debut on the Nikon F camera in 1959. This means that there's lots of interchangeability amongst the Nikon range.
Old manual focus Nikkor lenses made for Nikon film cameras in the 1960s can be used on the latest digital SLRs, and many of today's autofocus lenses will work on the original Nikon F.
Canon-only lenses
Canon EF 8-15mm f/4.0 L USM fisheye lens
Canon only has 1 new fisheye lens, but it's a zoom that enables the full-frame fisheye effect to be achieved across its entire range of DSLRs.
Canon TS-E 17mm f/4L ultra-wide angle tilt and shift lens
Canon's tilt-shift lens line-up offers photographers four different focal lengths: 17mm, 24mm, 45mm and 90mm. Nikon currently has three tilt-shift lenses – 24mm, 45mm and 85mm – which it brands 'Perspective Control', so Canon has the advantage here with the 17mm.
Canon EF 50mm f/1.2 L USM lens
Canon's super-fast 'nifty fifty' is a fan favourite, and while Nikon offers a manual focus equivalent, it has nothing similar in its autofocus lens range. So another advantage for Canon here.
Canon MP-E 65mm f/2.8 1-5x macro lens
Canon boasts some six macro lenses, its flagship optic being the MP-E 65mm f/2.8 1-5x macro lens which is the first macro lens to offer magnification greater than 1x.
Canon EF 400mm f/5.6 L USM lens
This is one of Canon's older optics, but it stays relevant for the simple fact that Nikon offers no equivalent competitor in its lineup. Advantage Canon.
Canon EF 70-300mm f/4.5-5.6 DO IS USM lens
Canon EF 400mm f/4 DO IS USM lens
Canon offers two options for Diffractive Optic (DO) lenses (though it hasn't released a new one for more than a decade). You'll spot these by the green ring around their lens barrels. DO lens elements allow smaller and lighter lenses to be made for a given focal length.
Canon EF 200-400mm f/4 L IS USM with internal 1.4x extender lens
Canon's 200-400mm telephoto zoom features a built-in teleconverter, which is a very handy thing indeed. However, the flip side is that it costs more than twice that of Nikon's 200-400mm f/4 lens.
Canon Cine Lenses
Canon is unique among camera manufacturers, offering a Cine lens line of filmmaking lenses for its Cinema EOS cameras (including the EOS C100, C300 and C500), as well as the company's full-frame EOS DSLRs.
SEE MORE
Best Canon EF lenses to start your collection
Best Canon EF-S lenses to start your collection
Nikon-only lenses
Nikon AF-S Nikkor 14-24mm f2.8 G ED ultra-wide angle zoom lens
Nikon's highly regarded wide-angle zoom lens has become much-loved by photographers for its low-light performance, incredible clarity and extreme wide-angle view on a full-frame body. Unfortunately, Canon doesn't offer a wide-angle zoom that can match Nikon's angle of view here, the closest being its EF 16-35mm f/2.8 L MkII USM lens. Advantage Nikon.
Nikon AF DX Nikkor 10.5mm f/2.8 G ED fisheye lens
Nikon AF-D Nikkor 16mm f/2.8 fisheye lens
Nikon separates itself from Canon again if you're in the market for a fisheye lens, offering lenses for both its FX- and DX-format bodies. Both Nikon fisheye lenses offer a 180 degree picture angle and boast a maximum aperture that is a full one stop brighter than Canon's closest fisheye competitor. Advantage Nikon.
Nikon 135mm f/2 D AF DC lens
Nikon 105mm f/2 D AF DC lens
Nikon's DC (Defocus-image Control) lenses are quite interesting optics. They feature 9 rounded diaphragm blades for circular out of focus highlights and a defocus control ring which, along with their large maximum apertures, really makes these two of the best portrait lenses on the planet.
Nikon's DC lenses also offer the added benefit of letting you adjust the quality of the bokeh in your images instead of tweaking the photo's overall sharpness, which you cannot do with the Softfocus control in Canon's EF 135mm f/2.8.
Nikon AF-S Nikkor 58mm f/1.4G lens
Yes, the price tag (£1600 / $1700) is steep and the focal length is a bit peculiar, but this 58mm beauty begins to make sense when you attach it to an APS-C DX-format body. Based on Nikon's Noct-Nikkor f/1.2, this 58mm equates to 87mm – which is very close to the classic portraiture focal length. On the other hand, it begs the question… if you shoot with a DX-format camera, would you really spend this much on a lens that costs this much?
Nikon AF-S DX Nikkor 18-300mm f/2.5-5.6G ED VR lens
Nikon has led the way in developing these lightweight 'mid-range' lenses, and Canon currently has nothing in its EF-S range that reaches as far as Nikon's 18-300mm. The closest Canon competitor is the EF-S 18-200mm f/3.5-5.6 IS, which falls a good hundred millimetres short.
Nikon manual focus Nikkor lenses
You read that correctly. Nikon still produces new manual focus Nikkor lenses for photographers who shoot images where absolutely precise focus is paramount, such as its Micro-Nikko macro lenses and Perspective Control tilt-shift range. Nikon also offers a wide range of fast, manual focus AIS lenses in both wide and standard focal lengths. Canon has largely stood down in this arms race, offering only its MP-E 65mm mac lens and TS-E tilt-shift lenses for its EF mount.
SEE MORE
Best Nikon DX lenses to start your collection
Best Nikon FX lenses to start your collection
[/nextpage]
[nextpage title="Mirrorless Cameras" ]
Canon vs Nikon: mirrorless cameras
While the future of the 1 system remains unclear, Nikon wins for the creativity it has applied to its mirrorless cameras. But Canon is a dark horse in this race.
While Nikon was hardly a pioneer in this market, you could argue that Canon's late – and clumsy – foray into compact system cameras is the company's one mistake in an otherwise stellar phase of development over the past 15 years.
The Canon EOS M and Nikon 1 ranges
When the EOS M launched in 2012, Canon became the last manufacturer to enter the compact system camera market. The EOS M, however, didn't follow Nikon's 1 series of mirrorless cameras by very long.
While initially the Nikon 1 series employed a smaller, 1-inch CX-format sensor than the M's 18-megapixel APS-C CMOS sensor, the EOS M was widely criticised for its slow autofocus (since improved by a firmware update, poor battery life and a lack of lens support.
Canon has released some subsequent iterations of the EOS M that have improved upon the original. And the current EOS M5 looks to be Canon's attempt at rectifying some of those early criticisms of the EOS M.
Canon EOS M5
One of the major complaints about the EOS M, EOS M3 and EOS M10 is that they don't have a viewfinder. That's been sorted for the Canon M5, as it has a 0.39-type OLED Electronic Viewfinder with 2,360,000 dots built-in. And it's really good.
One of our main gripes about the other Canon EOS M cameras is that their autofocusing system isn't fast enough and the AF area isn't precise enough. Worse still, we experienced an unacceptable number of occasions when the camera said the subject was sharp, but it very clearly wasn't.
We've now tested the M5's autofocusing system and it is fast, even in quite gloomy conditions and it allows you to use a small AF point. It uses the same technology as the Canon 80D in live view and video mode, and it proved very capable in our tests. So this could be the M that puts Canon on the mirrorless map.
Canon EOS M6, M100
Meanwhile, Canon has also launched the EOS M6 and an entry-level M100. The Canon EOS M6 has a nice AF system, but lacks a few of the features you may have expected from a CSC in its class, such as an EVF and 4K video recording.
We're still testing the M100, which so far appears to be a sturdy camera for beginners, but like other cameras in the M range lacks some of the inspiring features you might find in competing CSCs in its class.
Nikon 1 V3, AW-1
Nikon, on the other hand, has shown a bit more commitment to developing its Nikon 1 range since the maiden trio of J1, S1 and V1, boosting performance significantly with the V3 and going off in new directions with the waterproof AW-1. Nikon split its mirrorless range into three sub-series:
Nikon also offers a wider range of Nikkor 1 lenses exclusive to its mirrorless cameras, which range from a wide-angle 10mm pancake lens to a 70-300mm zoom enabled with Vibration Reduction. What's more, the company offers a mount adapter so you can attach any Nikkor F-mount lens to your 1 series CSC.
Nikon has also boasted a number of firsts in the mirrorless market too, such as the world's fastest continuous shooting frame rate (around 20fps with autofocus on the 18.4MP Nikon 1 V3) and the first waterproof and shockproof interchangeable lens camera (14.2MP Nikon 1 AW1).
The former has since been usurped, but the achievement stands and demonstrates Nikon's creativity in R&D and commitment to developing this range further.
Rumours of a full-frame Nikon 1 mirrorless camera have abounded for some time, and Nikon even recently told us that a full-frame mirrorless camera was in its future.
Some have called the demise of the Nikon 1 system, but we wouldn't be surprised at all to see Nikon debut a high-spec full-frame Nikon 1 camera in the next year.
SEE MORE: Best mirrorless cameras in the world
[/nextpage]
[nextpage title="Entry-level DSLRs" ]
Canon vs Nikon: DSLRs for beginners
This is the most hotly contested market between the two companies, and you can make strong cases for both the D3400, the EOS 200D or any of the cameras in this range. This one's probably a toss-up, but we'd probably opt for the Nikon D3400.

The entry-level DSLRs from Canon and Nikon are very similar, as you would expect from two companies locked in a close battle for market share. The beginner DSLRs from both companies are all APS-C format, which means their image sensors are about the size of a frame of APS-C film.
Which was smaller than a frame of standard 35mm film (which is what we mean by "full frame"). Which means APS-C sensors record a smaller part of the image. Even though we've moved on from the days of film, in some ways we really haven't!
Canon EOS 750D / Rebel T6i, EOS 760D / Rebel T6s
Canon offers four (sort of three) entry-level EOS DSLRs to choose from. At the top end are the Canon EOS 760D / Rebel T6s and EOS 750D / Rebel T6i. The 750D checks in about £50 / $100 cheaper, but the only difference between them is that the 760D features a top LCD display and a Quick Control Dial. That said, these are both useful and is probably worth the slightly extra cost if you can stretch your budget to its £550 price tag.
Inside both cameras you'll find the same 24-megapixel APS-C CMOS sensor, full HD video recording, 5fps continuous shooting, built-in Wi-Fi, an ISO range from 100 to 25,600 and the same 3in fully articulated screen. The 760D is also ever-so-slightly bigger.
Canon EOS 77D, 800D / Rebel T7i
In early 2017 Canon replaced both the EOS 750D and 760D (though you can still buy both). The Canon EOS 77D is the replacement for the Canon 760D while the Canon 800D replaces the 750D. Canon lists the 77D as an enthusiast-level camera.
Internally the 77D has a lot in common with the Canon 80D above it in the range, but the 24.Mp sensor is new and there's a Digic 7 processing engine, which means that the new camera is capable of producing slightly higher quality images.
Canon has also updated the AF with a 45-point system that's sensitive down to -3EV. In our Canon EOS 77D review we also found that the camera delivers attractive images with plenty of detail, and noise is controlled well thorough the majority of the native ISO range.
The Canon EOS 800D has the same pixel count (24.2Mp) as the camera it replaces the sensor is new and the processing engines has been updated from Digic 6 to Digic 7. Canon has also improved the autofocus systems and included a nippy 45-point phase detection system.
Canon EOS 700D / Rebel T5i
Meanwhile, the Canon EOS 700D still remains in the company's range, and we've seen it available for as low as £275. At that price, its 18-megapixel resolution, vari-angle LCD 3:2 ratio touchscreen, 5 frames per second continuous shooting for up to 22 shots, 9 cross-type AF points (for more precise autofocus), Full HD movies and a built-in Speedlite transmitter for wireless flash control look pretty enticing.
Canon EOS 100D / Rebel SL1
For around £350 you can also pick up the EOS 100D / Rebel SL1, launched in 2013, which is still the world's smallest and lightest DSLR, yet offers some powerful features inside. Along with its 18-megapixel CMOS sensor, it's powered by Canon's DIGIC 5 processing, a native maximum ISO of 25,600 and 63-zone Dual-Layer metering.
The 100D also has a touchscreen, although its a fixed LCD rather than a vari-angle monitor, it lacks an integrated Speedlite transmitter, only the centre AF point is a cross-type one and its continuous shooting is limited to 4fps. However, it had – at the time – the latest version of Canon's Hybrid CMOS AF for continuous focus when shooting movies.
Canon EOS 200D / Rebel SL2
The Canon EOS 200D, known as the Canon EOS Rebel SL2 in the US is a DSLR camera aimed at novice photographers who want a few more creative controls than is offered by the Canon 1300D below it in the Canon SLR line-up. Like many other DSLRs it has an APS-C sized sensor but it's the 'world's smallest, lightest DSLR' with that size sensor and a vari-angle screen. It's a great little camera with well-integrated touch control and Wi-Fi connectivity.
The Canon EOS 200D / Rebel SL2 is a significant step up in specifications from its predecessor, the EOS 100D / SL1, and looks and feels nicely designed. Canon's new Guided interface is also very good and should encourage novice photographers to move beyond Auto mode.
The 100D / SL1 has been a popular model for Canon over the years, and the EOS 200D / Rebel SL2 looks not only like it will follow in those footsteps, but will blaze new paths into other markets if the company can reach the Millennials it is now focused on.
Canon EOS 1300D / Rebel T6
The cheapest EOS DSLR (RRP) is the Canon 1300D, which you can find around the £300 mark, and often below. As you'd expect, this is a proper entry-level aimed at new photographers or those making the leap from a point-and-shoot to their first 'real' camera.
Its spec sheet offers Canon's trusty 18-megapixel sensor that's been a stalwart of its entry-level models, Canon's Digic 7 processor (a big upgrade from the 1200D's Digic 4), 9 AF points with the central point a cross-type, a viewfinder with a 95% view and built-in Wi-Fi.
Nikon D3300
While Canon's offerings boast a lot of spec for a modest budget, Nikon's entry-level DSLRs are also quite highly rated. The Nikon D3300, until very recently, was its flagship entry-level model, but is still widely available, and boasts a 24.2 megapixel sensor with 11 AF points (the centre one being a cross-type one), 5fps continuous shooting, native ISO of 100-12800 and EXPEED 4 processing.
It offers continuous autofocus for Full HD movies and metering comes courtesy of a 420-pixel RGB sensor.
Like its more advanced siblings further up the range, the Nikon D3300 has no optical low-pass filter (OLPF), allowing it to record sharper images (at the expense of a higher chance of moiré, as we discussed above, which can be corrected in post-processing).
It might seem a little unusual to offer this on an entry-level model, but image sharpness has become something of a battle cry for Nikon and the move seems aimed at delivering on its promise of ultimate sharpness throughout its range.
You can often buy a Nikon D3300 for less than £300 these days, while its 24.2MP predecessor, the D3200 – also a quality camera – can be had for around £250.
The Nikon D3300 lacks Canon's touchscreen technology, but on the other hand it does feature an excellent Guide Mode to ease beginner photographers through the picture-taking process. However, Canon has taken this concept further, introducing its EOS Companion app for iOS and Android with the EOS 1200D.
Nikon D3400
In summer 2016 Nikon introduced the D3400. It replaces the excellent D3300, but if we're very honest the changes are minimal – the main difference being the addition of Nikon's SnapBridge wireless technology to the D3400. You can read all about the Nikon D3400 vs the D3300 here.
But we're big fans of SnapBridge, and it's a nice addition to a camera at this price point. If you want to take some nice photos of your kids or holidays and share them quickly, rather than have to download them to a computer, you'll love this functionality.
[/nextpage]
[nextpage title="Mid-level DSLRs" ]

Canon vs Nikon: mid-level DSLRs
The Canon 80D is a great camera, but both the Nikon D7500 and D7200 beat it in a few key specifications. In particular, the D7500's use of the D500's sensor and processor make it very appealing. Slight advantage to Nikon
The so-called 'mid-range' area of the market is quite an interesting one for consumers, as technology and functionality from the manufacturers' professional models tend to trickle down to these models after about a year, while the mid-range price points are still modest enough to be achievable for photographers looking to upgrade from their entry-level models.
Canon EOS 7D Mark II
Canon's flagship enthusiast DSLR is the EOS 7D Mark II. Its predecessor, the EOS 7D, was a much-loved modern classic offering an 8fps continuous shooting rate, a 19-point AF system, a built-in Speedlite transmitter and a weather-sealed magnesium alloy body.
It was a stalwart of Canon's enthusiast range for many years until Canon announced the 7D Mark II in 2015. The Mark II builds on its predecessor's speed and power, offering 20-megapixel resolution, up to 10fps continuous shooting, 65 autofocus points, a max shutter speed of 1/8000sec and a long battery life of 670 frames.

Canon EOS 80D
That said, the EOS 80D is probably the best mid-range DSLR for Canon enthusiasts. With a 24-megapixel sensor backed up with DIGIC 5 processing, a very capable 45-point autofocus system and continuous shooting up to 7fps, it's an attractive choice for enthusiast sports and wildlife photographers and perhaps a cheaper, more useful all-rounder than the 7D Mark II.
In our Canon EOS 80D review we found image quality to be excellent, and although there's no 4K recording capability, Full HD footage is very good with the live view AF system enabling smooth focus transitions during recording.
Canon EOS 70D
The 20.2MP 70D remains in the Canon line-up, although it's getting harder to find. At almost half the price of the 80D it's now a bargain if you don't need its successor's extensive spec sheet. With Canon's DIGIC 5 processor, 19 cross-type AF points, an articulated touchscreen LCD and built-in Wi-Fi it's an incredibly well-rounded camera.

Nikon D7500
Nikon's flagship DX format camera is the D500 (see our High-end section), but next below it on the list is the intriguing Nikon D7500, announced in early 2017.
The Nikon D7500 is an APS-C format DSLR that uses the same 20.9 million pixel sensor and Expeed 5 processing engine as the Nikon D500. It sits above the D7200 and below the D500 in the Nikon DSLR line-up.
As we said in our Nikon D7500 review, Nikon has given the D7500 an enticing specification that includes 8fps (frame per second) shooting with autofocusing and metering, a top native sensitivity setting of ISO 51,200 and a 51-point AF system.
In many respects the D7500 is the camera that Nikon enthusiasts have been hoping for, with fast and effective autofocusing and high image quality, but for the most part you should ignore those top ISO expansion settings.
Nikon D7200
But if you don't want to stump for the D7500's street price, still out there is the 24.2MP Nikon D7200. An update to the popular D7100 (and D7000 before it), the D7200 was more of an upgrade than a new entity of its own… but it's a damn good one.
There's also the D7100, which is still yet to appear on Nikon's discontinued camera list for Europe. The Nikon D7100 doesn't have the Canon 70D's fold-out LCD touchscreen or built-in Wi-Fi control, so it's not as convenient for shooting movies. Its 6fps framerate is also slower than the 70D's 7fps, although it can be increased to 7 frames per second when used in x1.3 crop mode.
The D7100 also offers a higher resolution sensor that's stripped of its anti-aliasing filter for potentially sharper photos, and a 51-point Multi-Cam 3500DX AF module with 15 cross-type AF points.
If you're on a tight budget, the only-recently-replaced Canon 70D probably represents the best value for money at around £600 body-only.
But in terms of features, the Nikon D7200 has the edge, offering a higher resolution, 51 autofocus points, dual SD card slots and an extended battery life.
But how do the D7500 and D7200 compare to the EOS 80D?
Canon has upped its game with the 80D, matching the D7200 for resolution with a 24-megapixel CMOS sensor and besting the D7500's 20.9-megapixel sensor.
The EOS 80D also trumps the D7200's 6fps continuous shooting with 7 frames per second. Though the D7500 pips its Canon rival with 8fps. It is also smaller and offers a 3in fully articulated LCD screen. The D7500 offers a touchscreen CD, but it is not articulated.
However, Nikon's LCD screen is larger and offers better resolution. What's more, the 80D's native sensitivity range of ISO 100-25,600 falls well short of the D7200's and D7500's ISO 100-102,400, and the Nikon cameras can shoot about 150 more frames on a single battery charge.
If it were us? When you consider the price tags for the 80D, D7500 and D7200 aren't too far off (about £1100, £1299 and £900, respectively), and what the D7500 offers in terms of sensitivity, speed and AF, and that it's only slightly more expensive… we'd opt for the D7500. In fact, we might even opt for the D7200, as well, over the 80D.
That said… Nikon's best value mid-level camera could arguably be the D5500.
Nikon D5500
At around £450 body-only, one gets the same 24-megapixel resolution with the D5500 and no optical low pass filter like the D7200, 39 autofocus points, a native ISO range of 100-25,600 and a large 3.2in vars-angle touchscreen on the back.
Like Canon, though, many of Nikon's predecessor models are still widely available for purchase, such as the Nikon D5300. It offers a 3.2-inch tilt-and-swivel screen, an optical low pass filter-free 24.2-megapixel sensor and built-in Wi-Fi and GPS at a price that's hundreds of pounds cheaper than the Canon 70D, let alone the EOS 80D.
In fact, in terms of price and some of its specs the D5300, which you can find for as low as £300 body-only. The D5300 might be more comparable to Canon's flagship entry-level models, the 750D/760D, but with the same 24-megapixel sensor and now optical low pass filter, the same 39-point AF system with 9 cross-type AF points, the same native ISO range and articulated LCD touchscreen on the back, this might be all you need.
Nikon D5600
Nikon launched the D5600, replacing the Nikon D5500. Like the D3400 and D3300, though, the differences between the Nikon D5600 and D5500 are hard to spot. Again – like the D3400 – the key addition is Nikon's SnapBridge technology and a trickle-down of the Time Lapse mode found on the Nikon D7200.
[/nextpage]
[nextpage title="High-end DSLRs" ]
Canon vs Nikon: high-end DSLRs
You won't go wrong with any of these DSLRs, which all offer impeccable speed and image quality. But if we had to pick one, we are seriously impressed with the Nikon D850. It's one of the most complete cameras we've used.
In recent years the big two manufacturers have carved out a new market for themselves, introducing what they call 'entry-level full-frame' bodies. The trend started with the Canon EOS 6D and Nikon D600, both launched months from each other in 2013. And while the 6D is still current, Nikon has since unveiled the D610.
This category of the market has grown in the last few years to become a new 'high-end' range for both manufacturers, which now includes more expensive full-frame offerings like the Canon EOS 5D Mark IV (and previously the Mark III) and Nikon's D850 (and previously the D800 and D810) and very expensive retro full-frame Df rangefinder-style camera.
And only recently this market has expanded to include its first APS-C-format camera, Nikon's mind-bogglingly wonderful D500 which is somewhat aimed at enthusiasts and somewhat at professionals.
But let's get down to brass tacks. Canon's full-frame DSLRs only accept full-frame lenses. They aren't compatible with the company's crop-sensor EF-S lenses.
Nikon, however, affords you that flexibility. Its full-frame bodies are designed to attach DX Nikkor lenses. When doing so, its full-frame DSLRs will automatically switch to a DX crop mode, utilsing a smaller portion of their sensors.
Canon EOS 6D, EOS 6D Mark II, Nikon D610
Starting at the bottom end of the high-end ranges, the Canon EOS 6D and Nikon D610 match squarely head to head in the entry-level full-frame battle. The two cameras are very close in specs, and yet each one offers a few subtle advantages over its rival.
If we had to choose – and you know you want us to! – we'd give the edge to the D610, which offers a 24.3-megapixel sensor (if megapixels are your thing), while the EOS 6D checks in at 20.2 million pixels. What's more, you'll find a 100% viewfinder on the D610, while the 6D offers a 97% view. And the D610 also comes fully weather-sealed and boasting dual card slots (to the 6D's one) for good measure.
That's not to say, however, that the 6D is any kind of slouch. It was the first full-frame DSLR to feature built-in GPS and Wi-Fi (the D610 can do it, but requires Nikon's WU-1b Mobile Adapter), and it bests the D610's AF range in extending down to -3 EV (-1 EV for the D610).
In summer 2017 Canon announced its replacement. Sitting beneath the 5D Mark IV in Canon's full-frame DSLR line-up the Canon EOS 6D Mark II is attractively priced and a solid upgrade on the original 6D. The 26.2-megapixel sensor is new and brings a 6-million-pixel jump in resolution yet thanks to improvements in technology that the passage of almost five years brings and the Digic 7 processor the standard sensitivity (ISO) range has also expanded to ISO 100-40,000.
However, the downside is that the 6D Mark II rather surprisingly doesn't offer 4K video recording. In our tests we also found that the dynamic range is a little limited. Canon's and Nikon's 'entry-level' full-frame DSLRs are probably a toss-up.
Big Resolution DSLRs
After the hype of the so-called entry-level full-frame cameras came the Nikon D800 and D800E. And with their 36.3-million-pixel sensors, they quickly set the standard for 'big resolution' cameras.
In fact, an ultra-high resolution camera has always been a notable absence in Canon's range, and it was the launch of these two Nikon cameras that really drove this point home.
As they set new benchmarks with their 36.3-megapixel sensors, Canon's closest competitor in the megapixel race, the EOS 5D Mark III, lagged behind with 22.3 million pixels.
But what the 22.3MP Canon 5D Mark III lacks in resolution it more than makes up for in its autofocus performance. Borrowing the same AF system used in its sibling, the pro-model EOS-1DX, the 5D Mark III offers 61 AF points, 41 of which are cross-type and sensitive down to f/4, with yet 5 more that are sensitive to f/2.8.
The Nikon D800 has 51 AF points, of which only 15 are cross-type. What's more, you'll find a wider native ISO range on the 5D Mark III at ISO 100-12,800 (expandable to ISO 50 and 25,600), while the D800's is a modest ISO 100-6400 (expandable to ISO 100-25,600).
So while megapixel counters can point to an easy Nikon win here, under the bonnet the 5D Mark III made a case for its power. For all-round photography, you'd have to give it to the 5D Mark III, but for work that involves capturing a high level of detail and demands a tripod then then D810 was the clear winner. Both of these cameras are still widely available second-hand and can be an amazing addition to your kit bag.
Then after a couple years, everything changed. Nikon replaced the D800 and D800E with the D810, improving on some of those internal shortcomings vs the EOS 5D Mark III. And in 2015 Canon finally added that big resolution camera to its stable in the shape of Canon's EOS 5DS and 5DS R.
Canon EOS 5DS / 5DS R
With a staggering 50.6-megapixel sensor, the 5DS and 5DS R easily win the pixel race vs the D810, which retains the 36.3MP sensor of its predecessors. And while the D810 omits an optical low-pass filter, Canon, too, made its mark on this ground unveiling a new anti-alias cancellation technology in the 5DS R.
If you're looking to produce large prints from one of these cameras – which is probably one of the main reasons you'd want to buy one of these – you can produce 300ppi prints from the 5DS and 5DS R that measure 73.6×49.1cm, compared to 62.3×41.6cm prints from the D810.
To process images of this size presents a huge challenge to manufacturers, and Canon employs its Dual Digic 6 processors to keep the 5DS and 5DS R running smoother and employ a moderately fast burst rate of 5 frames per second – equal to the D810.
However, the flip side of using two processing engines is that battery life in the Canon cameras is reduced to 700 frames.
Nikon D810
Nikon, on the other hand, employs a a single Expeed 4 processor in the D810 but allows photographers to increase their burst rate to 7fps in a DX crop mode, which outputs smaller images and can shoot 1,200 images on a single battery charge.
One critical area of comparison with both Canon and Nikon cameras is the accuracy of autofocus. Each boasts a high-end system, but as before, Canon wins the numbers game with its 61-point AF system (with 41 cross-type points, five of which are dual cross-type) vs the Nikon 51-point module with 15 cross-type points.
Lastly, sensitivity is a key comparison point between these two rivals. While the D810 offers a generous native range from ISO 64-12,800 (expandable to ISO 32-51,200), Canon has towed a more cautious line with the 5DS and 5DS R, providing a native sensitivity range of ISO 100-6400, expandable to ISO 50-12,800.
Canon EOS 5D Mark IV
The Canon 5D Mark IV is a DSLR that replaces the (wait for it) Canon 5D Mark III as Canon's full-frame semi-pro-level model. Although it looks very similar to the camera it replaces, there's a jump in pixel count from 22. million to 30 million.
There's also a Digic 6+ engine to handle image processing which enables a maximum shooting rate of 7fps (frames per second) and a standard sensitivity range of ISO 100-32,000. The expanded range of ISO 50-102,400, however, is the same as the 5D Mark III's. In addition a second Digic 6 engine to take care of exposure metering.
Like the 5D Mark III, the Mark IV has 61 AF points, but they are spread a bit higher up and down the image frame with the new camera. 41 of the points are cross type and 21 of them are cross-type down to f/8, which means the camera is better equipped for low-light shooting.
Canon has given the 5D Mark IV a Dual Pixel CMOS sensor to enable fast and accurate focusing in live view and video mode. It also enables a new Dual Pixel Raw option that allows you to employ Image Micro Adjustment, Bokeh Shift or Ghosting Reduction when processing raw files in the supplied Digital Photo Professional software. In practice, however, we found it of limited use.
While the 5D Mark IV is an excellent stills camera and touch-control is well implemented, the fixed screen and lack of key video features such as zebra display, focus peaking and a Log mode reduce its appeal to serious videographers – despite the 4K capability.
With the Canon 5DS and 5DS R having 50million pixels, the 5D Mark IV's 30Mp sensor seems like a good choice for a more all-rounder type camera that needs a turn of speed. That means it can't quite match the Nikon D810, but it has an edge for noise control.
It also beats the Nikon D810 for video-centric features, but if video is really your thing then you may want to look at the Sony A7R II or Sony A7S II.
Nikon D850
Nikon struck back in 2017, however, launching the Nikon D850 in its centenary year. The D850 introduces a 47.5MP sensor, a vari-angle touchscreen and an AF system that has many photographers drooling. Our tests are still ongoing, but so far it looks like one of the most complete cameras we've seen to date.
Because of its combination of high pixel count and fast shooting rate along with a wide sensitivity range, Nikon is pitching the D850 as two cameras in one and it's a reasonable argument that makes the launch price (£3,499.99) a little more palatable.
Photographers normally have to choose whether they want high resolution or high frame rates and sensitivity settings but the D850 is like a boosted D810 combined with the D500.
How do you class the Nikon D500?
And then, finally, rounding out an increasingly crowded high-end of the market, we come to the Nikon D500 – a camera quite unlike any of its competitors here. In fact, we've discussed it in two categories, as it's a camera that crosses boundaries.
Photographers have been expecting a replacement for the D300S for quite some time. Every new year the rumour mill predicted a D400 was on its way, and every December we'd put it at the top of our wish lists for the next year.
Finally, Nikon unveiled its D300S replacement at CES in 2016, only they surprised everyone and called it the D500 (arguably to sit more naturally aside the flagship D5, announced at the same time).
The D500 is Nikon's highest level DX-format camera, but it's aimed squarely at the professional market and enthusiasts seeking a smaller, lighter alternative to a full-frame DSLR. Its appeal is also in its focal length magnification of its APS-C/DX format sensor.
However, it shares a number of similarities with Nikon's professional D5. As well as sharing the same EXPEED 5 processing engine, the D500 boasts a 20.9-megapixel sensor, very similar to the D5's 20.8 million effective pixel count.
The D500 is also capable of a maximum continuous shooting rate of 10fps for up to 200 14-bit lossless compressed raw files and a standard sensitivity range of ISO 100-51,200 with five expansion settings taking it up to the equivalent of ISO 1,640,000.
To compliment this low-light capability the D500's autofocus (AF) system has a central point that is sensitive down to -4 EV, while the surrounding points operate down to -3 EV.
The D500 employs the same Multi-CAM 20K AF module as is found in the D5 (see the Professional section) and offers 153 AF points. Some 55 of these can be selected individually, and 99 are cross-type. Inside the camera, the D500 can store images in dual card ports – one for SD cards and one for XQD cards, which enable faster image transfer.
The D500 can also record 4K UHD (3840 x 2160) video in 30p/25p/24p and can shoot at this quality for up to 29 minutes and 59 seconds (by comparison, its sibling the D5 is limited to just 3 minutes). You can even create a 4K time-lapse sequence in-camera!
In our Nikon D500 review we found the camera to be an excellent all-rounder with a superb autofocus system and plenty of scope for low-light shooting.
[/nextpage]
[nextpage title="Pro DSLRs" ]
Canon vs Nikon: professional DSLRs
The Nikon D5 might have a slight edge in AF and low-light performance, but the Canon 1DX Mark II is no slouch. Toss-up, to slight advantage Nikon.
Which is the best professional DSLR from Canon or Nikon? Let's face it: you can't really go wrong with any of these. Each of these cameras offers the sort of upgrade in performance you'd expect from a camera that likely costs more than your car.
But if you're prepared to drive a 10-year-old Toyota and spend the money it takes to acquire one of these powerful cameras you may as well get the one that offers the most advantages for the type of photography you want to shoot!
If we're honest, though, there used to be slightly more of a distinction between Canon and Nikon in the professional market. Nikon was always known as the company that nailed metering and flash system performance.
Canon was the brand you went to for superb autofocus and cutting-edge lens technology. But as the market has changed, so have the differences between the two brands.
The turning point for pro DSLRs
Really, the turning point was probably back in 2007 when Nikon launched its professional D3 model. With its 12.1-megapixel sensor, amazing dynamic range and superb performance at high ISO settings, the D3 was a game-changer in terms of what people came to expect from a DSLR.
Nikon followed this up with the D3s in 2009, introducing the 720p video capture it had unveiled as a DSLR-first with the D90. The D3s also boasted dust reduction and a Quiet shutter mode, which were subtle features, if you will, that had a transformative effect on people's photography.
Then, in 2012, Nikon launched the 16.2-megapixel D4, just in time for legions of sports photographers to capture Usain Bolt at the London Olympics.
The D4 upped its game to record Full HD video at 1080p, introduced XQD memory cards (the first camera to use them) and offered a built-in ethernet port on the side of the camera.
Two years later, Nikon upgraded the D4, unveiling the D4s with improved AF, faster 11 frames per second shooting and an Expeed 4 processor that enabled a new Hi4 extended mode, allowing the camera to shoot at a staggering equivalent of ISO 409,600. If you thought the D3 offered night vision, the D4s could pretty much see in the dark.
Canon's part in this story begins around the middle of 2011 when it launched the 18.1-megapixel EOS-1D X. Its new flagship professional DSLR finally usurped its long-standing joint rulers, the 21.1-megapixel, full-frame EOS-1D Mark III and the 16.1-megapixel, cropped-frame EOS-1D Mark IV.
Because the 1D X replaced two of Canon's professional camera lines, its spec sheet is effectively a compromise between the needs of the users of each of its predecessors. For instance, while the 1D X doesn't give sports and wildlife photographers the effective focal length increase they got from the 1D Mark Iv's 1.3x crop factor, it offers a resolution 3 megapixels less than the 1D Mark III.
It may seem like an odd move on Canon's part, but the 1D X received widely positive reviews and offers a number of best-in-class features, such as 12 frames per second shooting (180 JPEGs or 38 raw files) and a 14fps High Speed mode with the mirror and AF locked.
The Nikon D4s could 'only' shoot 11 frames per second; however, it could keep this workhorse pace going for up to 200 JPEGs or 60 uncompressed 14-bit RAW files.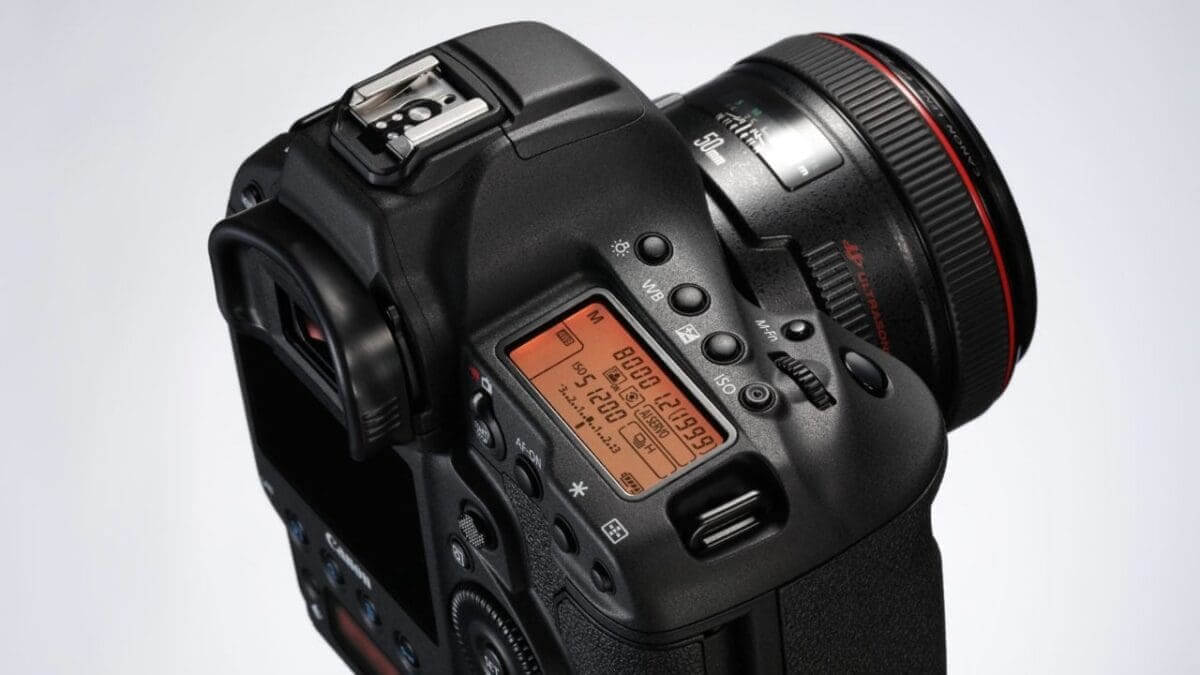 Canon EOS-1D X Mark II, Nikon D5
Which brings up to the present. In 2016, both Canon and Nikon updated their professional models yet again, launching the EOS-1D X Mark II and the D5.
Aimed at professional news and sports photographers, the Nikon D5 replaces the D4S as the company's flagship DSLR. Along with its 20.8-megapixel, full-frame sensor it can shoot at a maximum burst rate of 12fps with full AF and metering function.
In our own Nikon D5 review we found it's 153-point focusing system is superb, getting images sharp even in terrible light.
Of these 153 AF-points, 99 are cross-type and the central point is sensitive down to -4EV. Up to 55 of the points are individually selectable, although its possible to limit this to 15, and the rest are support points. The D5 can also be set to operate in single-point, 25-, 72- or 153-point dynamic-area AF, 3D tracking, group-area AF or Auto-area AF mode, giving photographers a lot of control.
As well as the Full HD video capability that has become standard across all DSLR models, the D5 is capable of recording 4K video footage, but this is limited to just 3 minutes. However, there have been intimations that a firmware upgrade will raise this limit to fall in line with the HD setting.
One of the D5's headline specs is its capability of shooting at a maximum sensitivity setting of ISO 3,280,000. Our own tests found the results to be, well, rather awful. But if you are a photojournalist, often any shot is better than no shot at all. And images at the D5's ISO 51,200 look rather remarkable.
Nikon makes two versions of the D5, one with two CF card slots and one with two XQD card slots. The XQD model is capable of recording up to 200 raw files at the maximum shooting rate, but the slower reading time of CF cards cuts this roughly in half.
As its name suggests, the Canon 1DX Mark II is Canon's new flagship DSLR, replacing the 1DX. Canon's flagship DSLR is designed for speed and low-light shooting to enable professional news and sports photographers to shoot in demanding conditions.
While Canon only increased the pixel count a modest amount, jumping from 18.1 million effective pixels to 20.2million, the company did employ a change in sensor design that integrates the A/D converter into the chip. Canon says this helps to reduce image noise by reducing the distance the analogue signal must travel before it's converted to a digital signal.
Image processing is handled by two Digic 6+ processors, which enables a maximum continuous shooting speed of 14fps (dropping to 10fps at ISO 102,400) with exposure metering and autofocus operation. It's even possible to shoot at 16fps in Live View mode, but exposure and focus are locked at the start of the sequence.
These high shooting rates are matched with high burst depths of unlimited JPEG files or 170 raw files. The 1DX can shoot 180 JPEGs or 38 raw files in a single burst so the Mark II makes a significant jump up.
Although the 1DX Mark II has the same number of AF points as its predecessor (61 points with 41 cross-type and 5 dual cross-type) Canon has expanded the AF area to cover more of the scene. What's more, there is a new AI Servo AF III+ system to help tracking subjects moving erratically.
Finally, while it doesn't offer the slightly ridiculous maximum sensitivity settings of the D5, it is still very capable in low-light situations. In our Canon EOS-1D X Mark II review we found that its standard autofocus system is very sensitive, fast and accurate, getting speeding subjects sharp in conditions that would stop other cameras in their tracks.
Last but not least, and perhaps the most interesting camera in this post, yet owned by the fewest people… the Canon EOS 1DC. Canon's 'multimedia' camera is based on the same design as the 1DX, and is a stills/video hybrid that can shoot 4K video at up to 24fps, as well as 1080p at 50/60fps.
However, you'll need to trade down your 10-year-old Toyota for something older: the EOS 1DC price tag starts around £8.5K.
READ MORE
Best DSLRs in the world
7 flagship cameras from 2014 you can now buy on a budget
[/nextpage]
Save
Save
Save
Save
Save
Save
Save
Save
Save
Save
Save
Save
Save
Save
Save
Save
Save