Snap Verdict
Canon's 1DX Mark II is designed for speed and low-light shooting to enable professional news and sports photographers to shoot in the type of conditions that their jobs demand. It doesn't have the ludicrously high maximum sensitivity settings of the Nikon D5, but it can still shoot in very gloomy conditions. Crucially for its target audience, the 1DX Mark II's standard autofocus system is very sensitive, fast and accurate, getting speeding subjects sharp in conditions that would stop other cameras in their tracks.
Although the 1DX Mark II's screen is fixed, at the time of launch it's the best you'll find on a DSLR, making images look bright and crisp and reducing the need to zoom in to check sharpness.
Key features
| | |
| --- | --- |
| Camera type | DSLR |
| Date announced | 2nd Feb 2016 |
| Price at launch | £5,199/$5,999 (body only) |
| Sensor size | Full-frame (35.9 x 23.9 mm) |
| Effective pixel count | 20.2 million |
| Processor | Dual Digic 6 |
| Lens/Mount | EF |
| Viewfinder | Optical with pentaprism 100% coverage |
| Sensitivity range | ISO 100-51,200 expandable to ISO 50-409,600 |
| Reflex AF system | 61-point with 41 cross type including 5 dual cross type |
| Live View AF system | Dual Pixel CMOS AF (phase detection) |
| Monitor | Touch-sensitive 3.2-inch Clear View LCD II with 1,040,000 dots |
| Max shooting rate | 14fps with AF tracking & metering, 16fps in live view mode with mirror locked-up, AF & metering locked on first frame |
| Max video resolution | 4K (4096 x 2160) |
| Storage | CFast 2.0 and CompactFlash (UDMA 7) |
| Dimensions | 158 x 167.6 x 82.6mm |
| Weight | 1340g (body only) |
As its name suggests the Canon 1DX Mark II is Canon's new flagship DSLR camera that replaces the 1DX. It's aimed a professional news and sports photographers who need a robust camera that's capable of delivering great pictures in a wide range of conditions, including very low light.
With this in mind Canon has only made a modest increase in pixel count for the Mark II, stepping up from 18.1 million effective pixels to 20.2million.
However, this is accompanied by a change in sensor design that integrates the A/D converter into the chip. This helps to reduce image noise by reducing the distance that the analogue signal must travel before it's converted to a digital signal.
While the 1DX Mark II's standard sensitivity range is the same as the Mark I's (ISO 100-51,200) the expansion settings cover ISO 50-409,600, going one stop higher than the 1DX's ISO 204,800 maximum.
Image processing is handled by two Digic 6+ processors and this arrangement enables a maximum continuous shooting speed of 14fps (dropping to 10fps at ISO 102,400) with exposure metering and autofocus operation. It's even possible to shoot at 16fps in Live View mode but exposure and focus are locked at the start of the sequence.
These high shooting rates are matched with high burst depths of unlimited JPEG files or 170 raw files. The 1DX can shoot 180 JPEGs or 38 raw files in a single burst so the Mark II makes a significant jump up.
Although the 1DX Mark II has the same number of autofocus points as its predecessor (61 points with 41 cross-type and 5 dual cross-type) the AF area has been expanded to cover more of the scene and there's a new AI Servo AF III+ system that's designed to improve tracking subjects that move erratically.
Proving that technology moves up as well as down through Canon's camera range, the 1DX Mark II's sensor has the Dual Pixel CMOS AF technology that we've seen in cameras like the Canon 80D. This is the first time that it has appeared in a full-frame Canon camera and it means that phase detection autofocusing takes place during live view and video shooting.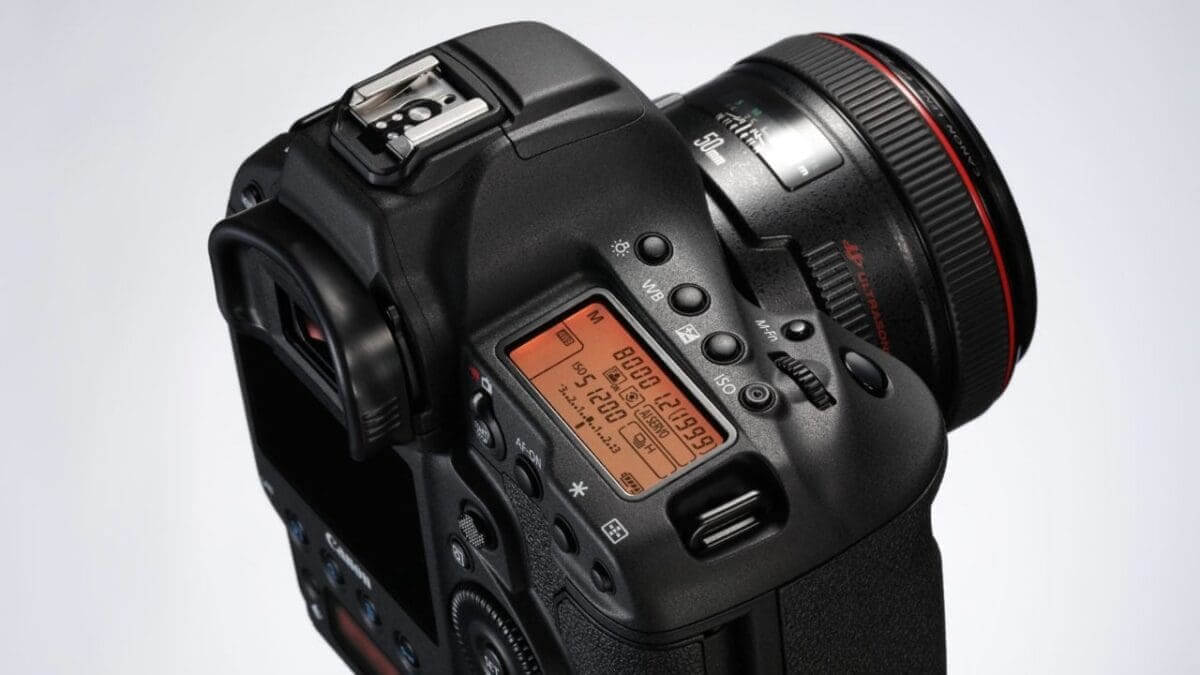 On the subject of video, the 1DX Mark II can shoot real 4K (4,096 x 2,160 pixel) footage at speeds up to 60fps for high quality slow motion playback, but oddly, unlike Full HD footage it can't be saved to an external drive.
Canon 1DX Mark II Build and handling
With its dual grip the 1DX Mark II looks every bit the professional-level camera. It's big and it's heavy but it's built to survive the type of conditions that a modern news photographer can expect to encounter. Its metal body protects its fragile inners while seals keep dust and moisture at bay.
On the whole the design and control layout is the same as the 1DX's, so its easy to swap between the two cameras. Unlike the Nikon D5, when you're holding the 1DX Mark II by its vertical grip and you reach for the AF point selector, you'll find it falls under your thumb in the same way that the horizontal controller does. It makes the camera that little bit quicker to use than the D5 – at least in the early days.
On the back of the camera is a 3.2-inch Clear View II TFT screen with 1,620,000 dots, that's 580,000 dots more than the 1DX's screen and it has quite an impact. The 1DX Mark II's screen the best I have ever seen on an SLR, coping comparably well with bright light and making images look very crisp so there's lees need to zoom into check sharpness.
The screen also responds promptly to touch, but sadly the touch-control is only used to set AF point in live view and video mode and toggle the AI servo (continuous) focusing on and off in video mode. It's a shame that Canon didn't extend the touch control to using the Quick menu because this would've speeded making some settings adjustments. And as the Quick menu is customisable it would have made it easier to set-up the screen to your preferences.
While I applaud Canon for making the Quick menu customisable, I wish that there was a second Quick menu so that one could be set to access stills features and the other video features.
Canon 1DX Mark II Performance
From the outset of our Canon 1DX Mark II review, the camera really impresses. Its focusing system is absolutely superb getting moving subjects fast quickly even in very low light and then tracking them around the frame (provided the appropriate mode is selected). I found the Automatic Zone AF and Large Zone AF modes pretty capable, but as usual it's best to narrow the field a little and use one of the smaller zone or point AF modes to ensure a higher hit rate provided the active area is over the subject.
Noise is also controlled well throughout the standard sensitivity range (ISO 100-51,200), but where possible I would keep to ISO 25,600 because the jpegs have more detail and the raw files less noise. At the lower sensitivity settings the level of detail in images is first-rate, especially for a camera with a relatively modest pixel count.
I've had a bit of a love-hate relationship with Canon's iFCL metering system but the new EOS iSA (intelligent Subject Analysis) system in the Canon 1DX Mark II is impressively good. In our Canon 1DX Mark II review there were very few occasions when I had to use the exposure compensation control when shooting in Evaluative metering mode. The dedicated 360,000-pixel RGB+IR metering sensor clearly keeps the system very well informed.
Similarly, the automatic white balance system is very good, delivering neutral results in White priority mode and images with a little more atmosphere in Ambience priority mode under artificial lighting.
Canon 1DX Mark II Verdict
Thanks to its sensor and processor technology developments, Canon has managed to pull-off a modest increase in pixel count at the same time as a slight improvement in image quality in comparison with the 1DX. Unlike Nikon, the company has also steered clear of largely useless, but headline grabbing sensitivity settings, while delivering a good working range and excellent low-light capability.
And although not going the whole hog with touch control, and eschewing tilting capability, the manufacturer has given the 1DX Mark II a really terrific screen.
The real heroes of the camera's story, however, are the sublime AF system and phenomenal continuous shooting capability.
Also consider:

Nikon D5
Nikon D4S
Leica SL


Canon 5D Mark III
Canon 1DX