If you haven't already heard the GoPro Hero12 Black has been announced for pre order. Although as yet there are no confirmed specifications or details other than a small teaser image. However, while we wait for more details why not check out our what we want to see from the GoPro Hero12 Black feature.
The latest GoPro has been announced! You can check out all we know so far about the GoPro Hero12 Black here
GoPro is the market-leading manufacturer of action cameras. Action cameras are essentially small go-anywhere cameras that are tough, robust, waterproof and small, about the size of a matchbox.
For these reasons, action cameras, especially GoPro, became popular with extreme sports enthusiasts. In the early years, several top brands were vying for attention. However, GoPro was clever and hit the marketing goldmine by sponsoring extreme sports events and stars and, for many years, were seen hand in hand with energy drinks manufacturer Red Bull.
From the early years to the present day, the company has had a rocky history with its competition and a product or two that didn't quite make the mark. However, each time GoPro has come back fighting, with the 12th generation camera on the way, and after a hiatus of competition, GoPro now faces the Insta360 ONE RS, DJI OSMO Action 4 and Drift XL Pro, so the latest release will need to pack in something special to stay ahead.
Action cameras may have found initial appeal with extreme sports enthusiasts. But, these days, the compact convenience has meant that these small cameras have wide appeal for almost anyone wanting to capture video or stills.
Several features separate action cameras, such as the GoPro, from other imaging devices.
Action cameras are small, tough, waterproof, easy to use, smartphone controllable, feature incredible resolutions and framerates, market-leading image stabilisation, voice controllable, web streaming, and so much more.
GoPro is a brand, not a type of camera.
GoPro is an action camera brand, but like Hoover, Jet Ski and Photoshop, the brand has become the verb. GoPro, as with all action cameras, enables you to capture the action wherever you are; in the sea, air or on land; GoPro will help you capture the footage.
Unlike other cameras, GoPro is designed to be attached rather than handheld and uses a wide range of mounts that enable you to attach the cameras to pretty much anything, from yourself to cars and even animals.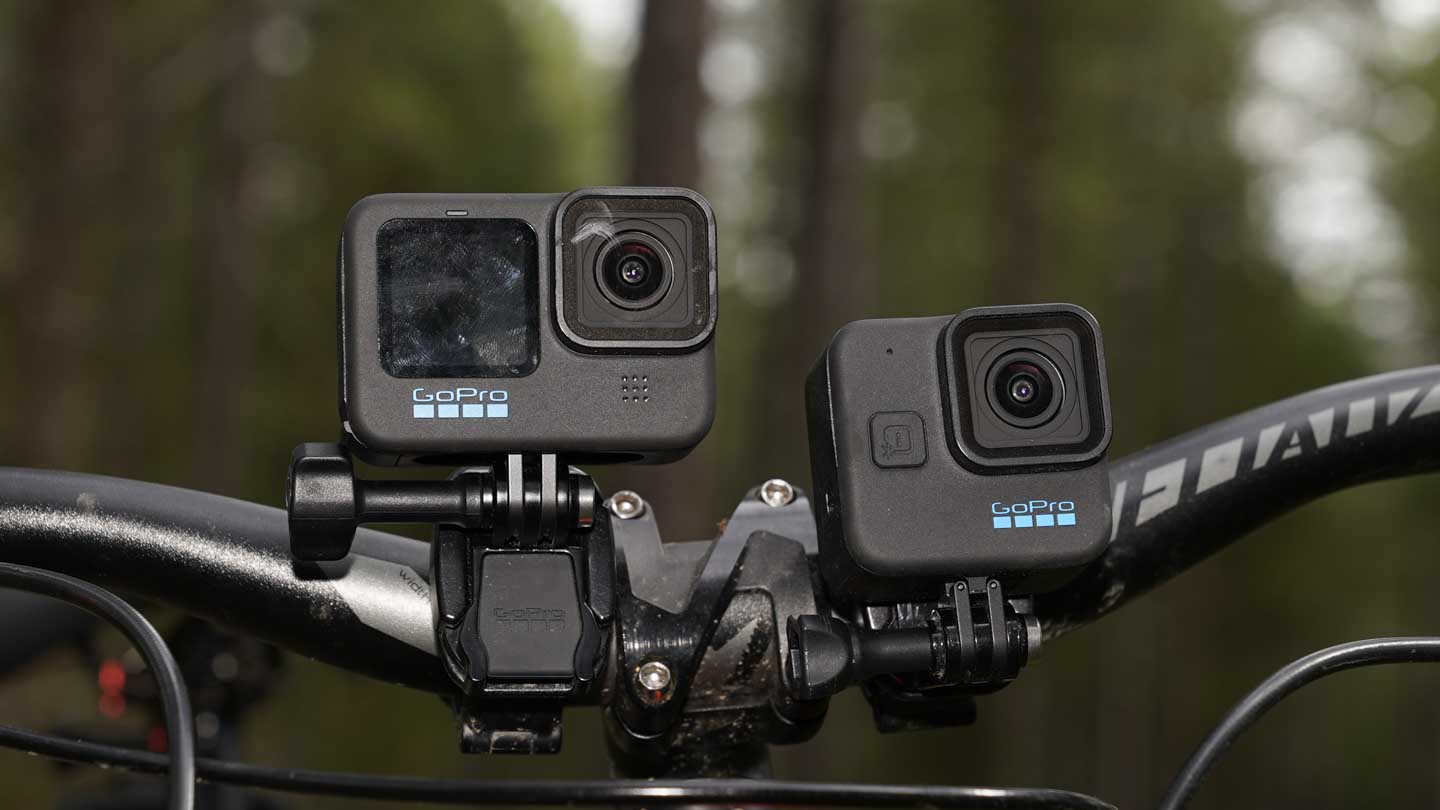 Another great feature is that they're designed to be ultratough, which means that they can be dropped, submerged in water and subjected to conditions that normally render most cameras defunct.
While there are many action cameras on the market, there is only one GoPro and a few challenges. Currently, there's only the DJI Action 4, Insta360 One RS and DRIFT XL Pro, while GoPro has until recently had the edge, the DJI Action 4 has changed the game with a larger sensor and one of the most solid performances that we have so far seen from an action camera.
GoPro's visual style and options.
The professional video world didn't take long to notice GoPro for their unique ultra-wide fish-eye style footage. This footage was clear, crisp and well-saturated, matching the brand's intended audience of extreme sports, sun and excitement.
Over the years, GoPro has adapted to meet the demands of the buying public and professional entities with a swath of filming options that have appealed to all user levels.
GoPro for families
GoPro lets anyone pick up the camera and film at the base level. The basic settings see a simple interface with a screen that shows what you're recording and press the large shutter button on top to start and stop – it's that easy, no settings, rules or NDs to worry about, get out and film.
When it comes to family use, the tough characteristics are invaluable, so you can let the kids throw it around, drop it into your beer, pool or river, and the small camera will be fine.
Want to capture a selfie with your friends? That's no problem with the accompanying app with a live view stream from the camera to your mobile device. It even lets you review, upload or stream your footage live,
GoPro is the complete imaging solution for the family, easy to use and easy to edit and share.
GoPro for vloggers
Since the Hero7, GoPro has worked hard to expand on the features to appeal to vloggers / YouTubers.
The image stabilisation is mindblowing, so much so that GoPro ended the development of their mechanical image stabiliser, the Karma Grip, favouring HyperSmooth.
GoPro also launched the Mod system with the next generation addition of a high-quality Mic and mounts that could easily be attached to the camera. In the 9th gen, an additional lens and an improved optional 3-way handle were launched to enhance self-shot footage further, and these developments have continued through the 10 and, predictably, GoPro Hero11 Black.
GoPro for extreme sports starts
Looking back to GoPro's orgins, and it was all about extreme sports; close marketing ties with RedBull and the sponsoring of many extreme sports starts and events helped reinforce the brands position.
These days GoPro is still the choice for most people wanting to record their exploits. The small camera is easy to attach, but GoPro has learned exactly what people are after when capturing their chosen spots over the years.
GoPro mounts are the key, and the small camera has a mount for almost every task, and few sports haven't engineered amount to suit. From Sky diving to F1, a built-in or attachable mount exists to fit.
But there's so much more; as the extreme sports enthusiasts have learnt more about the hardware, they're helped to influence the features, slow motion, higher resolutions and framerates.
These video features help to push what's possible with the small camera.
GoPro for professional broadcast
Unsurprisingly GoPro's ability to adapt and be rigged has appealed to many broadcast houses, and it's surprising just how often footage from these small cameras appears on TV.
GoPro cameras might be small, but the company has worked extremely hard to ensure the video quality is as good.
Features such as ProTune enable colour settings that enable grading to match other camera systems. With shutter control, there's plenty of scope for this small camera to be used alongside a professional broadcast kit.
GoPro for everyone
GoPro is the market leader, and for a good reason; while the other manufacturers all produce good action cameras, they're no GoPro in design or quality.
This action camera is designed for everyone, from vloggers, families, extreme sports enthusiasts, professionals and everyone in between.
You can't fault GoPro or its features if you need a small, lightweight, go-anywhere camera.
There's a lot more to GoPro than you would think, and in the following articles, we'll take an in-depth look at everything GoPro and beyond.