It's that GoPro time of year again, and as ever, there's an all-new camera to amaze existing and new action camera enthusiasts. The GoPro Hero12 Black is here, but don't expect to be instantly bowled over by any huge hikes in specifications or features. Again, GoPro has gone for a steady upgrade route rather than any major leaps in technology or massive design changes.
In previous years, we've seen a few competitors try to take the GoPro crown, with one young upstart taking on GoPro on their launch day with their own feature-packed action camera. This year, that company pre-emptied GoPro's launch and sneaked its camera out a couple of weeks early, and the result was outstanding. This year or all years, the new GoPro really has to be something. So, what does the new GoPro Hero12 have to offer and is it enough to stay ahead of the formidable DJI OSMO Action 4?
If you expect a big boost in resolution, a larger sensor or an improved processor, you'll have to wait for the GoPro Hero13 Black, as this GoPro, like its immediate predecessor, is all about further refinement. In many ways, this is the green GoPro with greater efficiency through a new power management system that sees battery life double. That in itself is instantly going to have wide appeal. Then there's the Pro-focused features which might seem small, but all add up to something more than GoPro has been before.
Specification
Max video modes:

5.3K60 / 4K120 5.3K30 8:7 / 4K60 8:7

HDR Video modes:

5.3K (16:9) 30, 25, 24 fps 4K (8:7) 30, 25, 24 fps 4K (16:9) 60, 50, 30, 25, 24 fps

Digital Lenses:

HyperView, SuperView, Wide, Linear, Linear + Horizon Lock

Video stabalisation:

HyperSmooth 6.0

Video file format:

H.265 (HEVC)

Colour video bit depth§:

GP-Log with LUT, 10-Bit, 8-bit

Maximum video bit rate:

Up to 120Mbps (5.3K / 4k)

Photo Intervals:

0.5, 1s, 2s, 3s, 5s, 10s, 30s, 60s, 120s

Simultaneous Bluetooth Devices:

Up to 4

Processor:

GP2

Dimensions:

71.8 W x 50.8 H x 33.6 D (mm)

Weight:

154g
Let's take a look at the new GoPro Hero12 Black features.
The big news for this release is the extended run time with an all-new power management system that effectively doubles run times. Then there's the new Max Lens Mod 2.0, which enables you to fully use the unique sensor ratio and wide field of view of 177º. Joining these features are those that are pro-focused, such as the new Timecode feature and GP-Log profile for professional editing and colour grading. Content creators also see a big boost to what they can do with the GoPro out of the box, with the addition of a BlueTooth connection for various audio devices, from headphones to microphones.
Alongside the hardware upgrades, the new camera is also packaged with an updated desktop and mobile version of the apps.
So, while this might not look like one of the biggest updates from GoPro, it does look to be a solid boost to the camera and one that will find greater appeal for content creators and professionals.
Let's take a closer look at some of those GoPro Hero12 Black features
A Boost in Framerate Options
Starting with the resolutions and framerates, and while the GoPro HERO12 Black doesn't delve into higher resolutions, it does offer a major boost in framerate options. With 5.3K now capable of recording at 60fps, the 4K remains at an impressive 120fps, although it's not yet known if this extends to 4:3 as well as 16:9. Slow-motion enthusiasts will still have plenty to play with, and the 1080p footage at 16:9 will take you through to 240fps or 8x slow-mo.
HyperSmooth 6.0 for Steadier Footage
Building on one of the most impressive features to hit action cameras is the latest version of HyperSmooth. This digital image stabilisation that now blasts mechanical stabilisation out of the arena increases the automatic stabilisation boost as and when needed while maintaining the smallest cropping margin possible; this auto boost also enables imperceptible transitions between crop levels. HyperSmooth 6.0 also brings horizon-levelling, which we have seen in the previous version, but now with full 360° camera rotation in the Linear + Horizon Lock digital lens or all lens settings when using the Max Lens Mod 2.0 accessory, which is new and an additional purchase.
Max Lens Mod 2.0
The Max Lens Mod 2.0 is the big success of the Mod series and essentially gives you another lens option for your GoPro. In this case, if you didn't think the field of view of the GoPro was quite wide enough, then with this new Max Lens Mod 2.0, you can push that field of view to 177° at the 4K60 Resolution.
As with the previous Max Lens Mod, the module replaces the standard lens, which can be removed with a firm twist. Once the standard lens is removed, the new Max Lens Mod 2.0 can be fitted. Once in place, you can then use the GoPro UI to select from three field-of-view options, two that already exist and one all-new: Max Wide, Max SuperView and the all-new, hyper-immersive Max HyperView.
At this point, I have to mention the sensor size. At 1/1.9″, it's not quite the sensor size boost many had anticipated; however, rather than the standard 4:3, this sensor offers an 8:7 aspect ratio, which is more square than rectangular. This gives the obvious advantage that it's easier to rotate the camera while maintaining a level without needing to crop into the frame drastically.
When using the Max Lens Mod 2.0, you can use that full sensor with perspectives that are 36% wider for widescreen video and 48% taller for vertical video, compared to HER012 Black's standard lens.
The lens has been redesigned and is tougher in every respect than its predecessor, with 2x more scratch-resistant glass. It features a durable hydrophobic lens coating that enables water drops to run away freely, helping to keep a crystal-clear lens for optimal video capture.
"HERO12 Black resets the bar for immersive life-capture," says GoPro CEO and Founder Nicholas Woodman. "Our new flagship camera is the culmination of GoPro's 21 years of experience and our passion for helping you capture and share your life in an immersive, dream-like way that makes you and your audience feel like you're right there again, reliving your favourite experiences in vivid detail."
Wireless audio
Now, this new GoPro Hero12 Black feature is really interesting. GoPro has wireless audio support for Apple AirPods, earbuds, headphones and microphones. GoPro has been careful with this release to open themselves up to more compatibility with other manufacturers. Apple is obvious, but opening the devices to any BlueTooth audio is interesting and something I look forward to testing.
Interestingly, the software update is also compatible with a wide range of cameras beyond GoPro's own as the company recognise the wide use of their cameras in professional environments where their imaging devices won't be the only options available.
One thing that I'm not sure of at present is whether you can wirelessly connect through BlueTooth to a Mic and headphones simultaneously for recording and monitoring, the specs say up to four devices at anyone time so I look forward to testing how this works in practice.
Pro time code syncing
Backing up this step into the professional's friend is the Time code sync option. This enables you to sync multiple cameras with the same time code, so when it comes to editing, you can match all clips with the time codes, making cutting extremely easy. While you still need to ensure syncing has been carried out, this is a bit of a leap, and if it's backwards compatible with at least one or two generations of previous GoPro, then this could be a game changer for many.
Furthering the interest around the professional use is the GP-Log with LUTs. This means you can now record flat-looking footage that captures a wide dynamic range and is ripe for colour grading and all at 10-bit.
Longer battery life
This seems to be the big selling point for GoPro, so here it is: 2x longer battery life. Honestly, it was pretty impressive anyway, so to double it just means that I'm less likely to charge it and more likely to find that it's completely run down when I need it. However, this, for the vast majority of other people out there, will be a worthwhile update.
This extended battery life has all been made possible by the improved power management system that now delivers 70 minutes of continuous recording at 5.3K60, 95 minutes at 5.3K30 and 155 minutes at 1080p30, and this is with HyperSmooth 6.0 video stabilisation switch on at all the above settings.
There are a few other small enhancements such as the new vertical capture mode so you can mimic a mobile phone, a simplified controls option with "Easy Controls" or "Pro Controls", a range of night effects such as light painting, a set of new power tools, I'll cover these in a separate review at a later date and then the sync updates to the apps.
Finally, a 1-1/4″ thread
It's one of the features on our list of GoPro wants, and with the GoPro Hero12 Black, it's finally here. The 1-1/4 inch thread is neatly embedded between the standard fold-down GoPro mount. This means you can now mount a GoPro directly to a standard tripod, slider, gimbal, etc., without needing a GoPro adapter. These new features make me happy, and now I just need that Fluro version.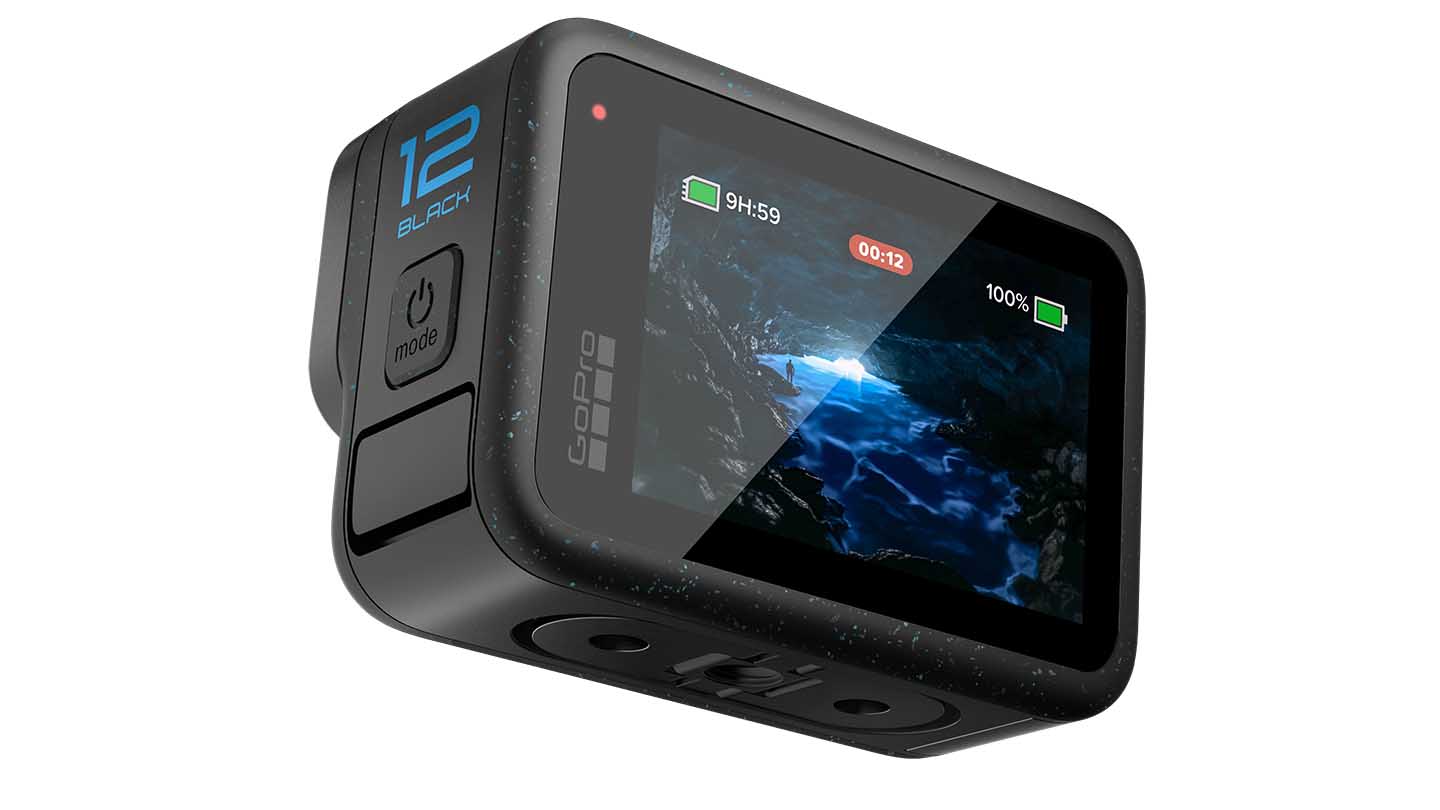 Early thoughts on the new GoPro Hero12 Black
So again, GoPro has been steady with the upgrade options; nothing here stands out as groundbreaking. However, the professional market seems to have been speaking to GoPro, and the feature many Pros want has now been included. Mainly the GP-Log, Timecodes and, to some extent, that 1-1/4″ thread. At the same time, the BlueTooth connection to audio devices gives the small GoPro something of a power boost.
OK, it isn't groundbreaking, but it does look enough if the video quality stands out to keep level with the DJI OSMO Action 4; I'll bring you the full test and review soon.
GoPro Hero12 Black Price and Availability
HERO12 Black ($399.99) and Max Lens Mod 2.0 ($99.99 or $79.99 for GoPro subscribers) are available for preorder on GoPro.com starting today. Both products will be available in stores globally on September 13, along with HERO12 Black Creator Edition for $599.99. Learn more at GoPro.com.
Standard HERO12 Black – £399.99 GBP / $649.95 AUD / 449.99 EURO
HERO12 Black + Max Lens Mod 2.0 bundle – £479.98 GBP / $785.91 AUD / 537.98 EURO
Max Lens Mod 2.0 alone – £99.99 GBP / $169.95 AUD / 109.99 EURO
HERO12 Black Creator Edition – £599.99 GBP / $949.95 AUD / 679.99 EURO
To learn more about the upcoming Quik desktop app, visit GoPro.com/news.
GoPro will also host a HERO12 Black "Ask Me Anything" virtual event exclusively for subscribers on September 7. Tune in here.