The theme for the August 2023 round of the Camera Jabber Photographer of the Year (CJPOTY) competition was 'Light'. Once again, there was a terrific array of images submitted and it was a genuine delight to narrow them down to our top ten. We are thrilled to reveal that the following images will be added to our shortlist to be judged by our illustrious panel of judges at the end of the year.
One of these ten shortlisted images has also been selected as the round winner, with the photographer being awarded a voucher from MPB worth £500 – scroll down to find out who.
CJPOTY August 2023 'Light' shortlisted images
Edyta Rice
Edita created this wonderful image with her Nikon D850 in Provance a year ago. It's a brilliant self-portrait showing natural light being 'captured' in the lantern. Edyta says she was fortunate with the conditions and looked for the perfect location and shooting angle to deliver her idea.
Melanie Sharp
Melanie photographed this beautiful male Mandrill with her Sony R10 IV. She says, ' he was looking up at the sky deep in thought – or so it appeared. He knew exactly what was going on around him and where all his troop were. I loved how the light fell on his face and eyes.' That's precisely what pulled us into the shot, Melanie.
Louise Norris
Who doesn't love a puffin? Louise captured this wonderful image using her Canon EOS 90D in the golden glow of sunset while looking out to sea on Skomer Island. It's a tricky scene to expose, but Louise has got it just right.
Samantha Deakin
Samantha tells us, 'My daughter loves jigsaws. Jigsaws and dolls. She often takes herself away and when I go to find her, she will be playing with one or the other in the most unusual places – the stairway, bathroom and sometimes in cupboards. I love it best when she finds a pretty patch of light! We are renovating our house and there is lots of clutter and unsightly decoration to hide if I am to realise my vision. By exploiting the properties of 'light fall-off' I can let the clutter melt away into the shadows. I used an off-camera flash as my light source in this image.' We love it, Samantha. There's a wonderfully cosy, family feel to the shot and your lighting has recreated a sunbeam perfectly.
Linda Wride
As always, Linda's composition is excellent. We love how the white-painted walls make the photograph all about the light and its fall-off. There's a real elegance to this photograph.
Helen Trust
Helen has two images shortlisted this month, both captured using her Canon EOS 5D IV. The first is this beautiful image of the Hamburg subway. The clean, futuristic appearance and bold leading lines draw the eye effectively. Great work, Helen.
This image was Helen's reward for an early trip to witness the morning commute past the City of Arts & Science in Valencia. It's a fabulous scene made even more attractive by the light from the low sun, while the cyclist gives our eyes a place to rest.
Jo Martindale
Jo is the second photographer to have two images shortlisted this month. Her inspiration for this image came when she spotted the shadows the low morning sun was creating on the wall. She gave her daughter a ball, asking her to throw it up in the air and used her Canon EOS R6 to capture the whole scene. The girl in strong directional light while her shadow is framed by the foliage shadows. It's a playful image that the Jabber team like a lot.
Jo saw the light streaming through the tall windows in the old turbine hall at Battersea Power Station and immediately reached for her camera. She let her children explore the area and waited until her daughter was in the perfect spot for this super shot.
Fo Bugler
There's a fabulous sense of style in this image, it's only the nose ring that grounds it in modern times. Fo made the right decision to shoot in (or convert to) black and white because it really emphasises the pattern of light and shade on the model's face. It's a striking portrait.
CJPOTY August 2023 winner: Melanie Sharp
Congratulations, Melanie, a voucher worth £500 from MPB is heading your way!
Melanie's image joins the other 9 images selected this month and goes onto our shortlist for our panel of VIP judges at the end of the year for the overall prize.
CJPOTY September: Natural Colour
There are just a couple of days left to submit images to the September round of CJPOTY. The theme 'for the ninth round of the 2023/24 Camera Jabber Photographer of the Year (CJPOTY) competition is 'Natural Colour'.
Nature always seems to go one way or the other with colour. It's either full-on or subtle. We want to see your images of whichever you prefer, muted tones or vibrant hues – or both!
This round of our monthly competition is open for submissions until 23:59 BST (00:59 CET and 15:59 PST) on 30th September 2023.
To submit your entry, follow the link to cjpoty or click on the CJPOTY button at the top of any of our website pages. You can submit up to three entries for £2.00 plus payment processing costs (£0.26). Images should be Jpegs at least 1920 pixels along their longest side but no larger than 2MB.
Camera Jabber Photographer of the Year prizes
At the end of the month, the Camera Jabber team will pick one winning image and nine runners-up from the September entries. The photographer of the winning image will receive a voucher from MPB.com to the value of £500 which can be spent on anything from a huge range of kit from the World's biggest platform for used photographic gear.
All 10 of the selected images will go into our shortlist for the year.
We'll do this each month in 2023 so that by the end of the year, there will be 120 shortlisted images. These will then go before our fantastic panel of judges who will decide the 1st, 2nd and 3rd-placed images.
The photographer of the first-placed image overall, as decided by the panel of judges , will receive a voucher to the value of £1000 from MPB.com as well as a trophy and the title 'Camera Jabber Photographer of the Year 2023'. The photographers who come second and third will receive vouchers worth £500 and £250, respectively.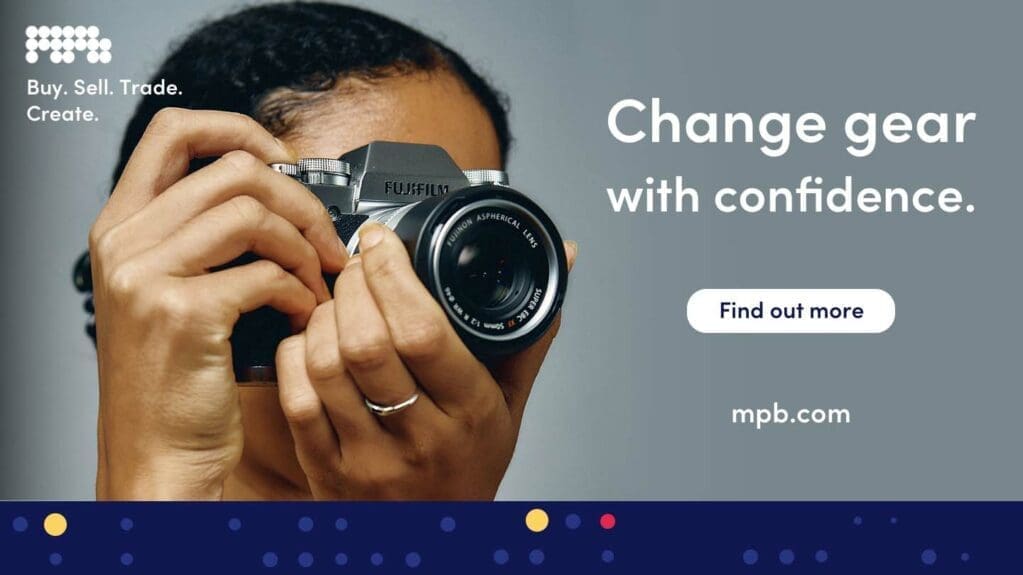 About MPB
Founded by Matt Barker in 2011, MPB is the world's largest platform for used photography and videography kit. MPB has transformed the way people buy, sell and trade equipment, making photography more accessible, affordable and sustainable.
Headquartered in the creative communities of Brighton, Brooklyn and Berlin, the MPB team includes trained camera experts and seasoned photographers and videographers who bring their passion to work every day to deliver outstanding service. Every piece of kit is inspected carefully by product specialists and comes with a six-month warranty to give customers peace of mind that buying used doesn't mean sacrificing reliability.