Depsite all the buzz around full-frame mirrorless cameras, the crop-sensor Canon EOS 90D provides strong image quality with superb autofocus performance in low light. Could the 90D be the best DSLR on the market? We put it to the test.
Snap Verdict
Although we keep hearing about mirrorless camera sales overtaking DSLR sales, there are still many photographers who want a camera with a mirror. The Canon EOS 90D is designed to appeal to those people and it has a comprehensive feature set, an impressive turn of speed and two very capable autofocus systems. It's also able to produce excellent-quality video and stills.
However, in the default settings, the finer details of some fairly low sensitivity (ISO 400) images is sometimes lost from the Jpegs. Scrutinising the raw files shows the detail is there along with a bit of luminance noise, however, the standard noise reduction can smush it out of the Jpegs.
Key Specifications
Price at Launch: £1,209/$1,199 body only
Sensor: 32.5Mp APS-C (22.3 x 14.8mm) format
Lens Mount: Canon EF-S
AF System: With optical viewfinder: TTL-CT-SIR with a CMOS sensor with 45 cross-type AF points
(45 f/5.6 cross-type AF points, 27 f/8 points [9 cross-type], centre point is f/2.8 and f/5.6 dual cross-type), In Live View mode: Dual Pixel CMOS AF System with phase detection pixels built onto the imaging sensor
Screen: Vari-angle 3-inch 1,404,000-dot Clear View II TFT touchscreen
Viewfinder: Optical with pentaprism showing 100% field of view and 0.95x magnification
Continuous Shooting: 10fps for up to 58 Jpeg and 25 raw files with UHS-II card with the viewfinder, in Live View mode, up to 11fps with One-Shot AF or 7fps with Servo AF
Sensitivity ISO 100-25,600, expandable to ISO 51,200 for stills, 100-12,800 expandable to ISO 25,600 for movies
Video 4K – 3840 x 2160 (29.97, 25 fps), Full HD – 1920 x 1080 (119.88, 100, 59.94, 50, 29.97, 25 fps), HD – 1280 x 720 (59.94, 50 fps), HDR – 1920 x 1080 (29.97, 25 fps), 4K Timelapse – 3840 x 2160 (29.97, 25 fps)
Dimensions 140.7 x 104.8 x 76.8mm
Weight 701g including battery and card
Canon EOS 90D Price & Release Date
The Canon EOS 90D price tag is £1,209.99 / €1,449.99, and the camera had a release date on 12 September 2019.
You can buy the Canon EOS 90D from retailers such as Adorama, B&H Photo Video, Park Cameras and Wex Photo Video.
Features
The Canon EOS 90D features a new 32.5Mp APS-C format Dual Pixel CMOS sensor. That's the same sensor as is used in the mirrorless EOS M6 Mark II announced at the same time.
This sensor is paired with Canon's latest generation Digic 8 processing engine to enable a native sensitivity range of ISO 100-25,600 with an expansion setting of ISO 51,200 for stills. Meanwhile, the movie shooting range is ISO 100-12,800 with an expansion setting of ISO 25,600.
The Canon 90D can also shoot at up to 10fps (frames per second) with continuous autofocusing when the viewfinder is in use. This rate can be maintained for up to 58 Jpeg or 25 raw files when a UHS-II card is in the card slot. Alternatively, in live view mode, the 90D can shoot at 11fps in One-Shot AF mode or, 7fps in Servo AF (continuous AF) mode.
These fast shooting rates are backed up by quick shutter speeds. When the standard electronically-controlled focal-plane shutter is in use the range is 30-1/8000 sec, plus Bulb. However, the electronic shutter that's available in Live View mode has a maximum shutter speed of 1/16,000 sec.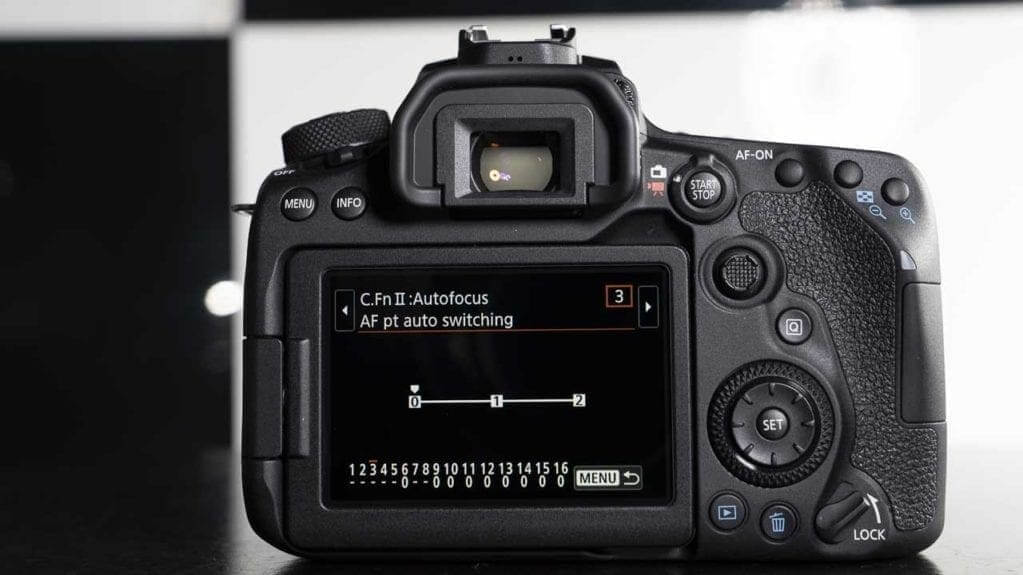 Two Autofocus Systems
As it's a DSLR, the Canon 90D has two autofocusing systems. One is for use with the viewfinder (ie in reflex mode) while the other operates in Live View mode. The reflex mode system has 45 cross-type AF points with lenses that have a maximum aperture of f/5.6 or larger. Of these points, 27 work with lens and teleconverter combinations that result in a maximum aperture of f/8, and 9 remain cross-type. The centre point is dual-cross type with f/5.6 lenses.
This autofocus (AF) system works at down to -3Ev.
As usual with a Canon DSLR, it can operate in One Shot, AI Focus and AI Servo mode, also known as single, automatic and continuous AF.
The 90D can select the points automatically in 45-point AF mode, but there are four manual selection options, Single point AF, Spot AF, Zone AF and Large Zone AF. Zone AF and Large Zone AF are especially useful with subjects that move erratically.
The reflex mode AF system uses a dedicated AF sensor rather than the imaging sensor. Because of manufacturing tolerances, this can result in slight inaccuracies with some lenses, so it's helpful that the 90D also has an AF Microadjustment system. This enables the focus point to be adjusted to suite up to 40 individual lenses.
Those who are keen to get the very best from the Canon 90D's AF system will want to familiarise themselves with the customisation options. These adjust how the camera responds to changes in subject speed or distance from the camera.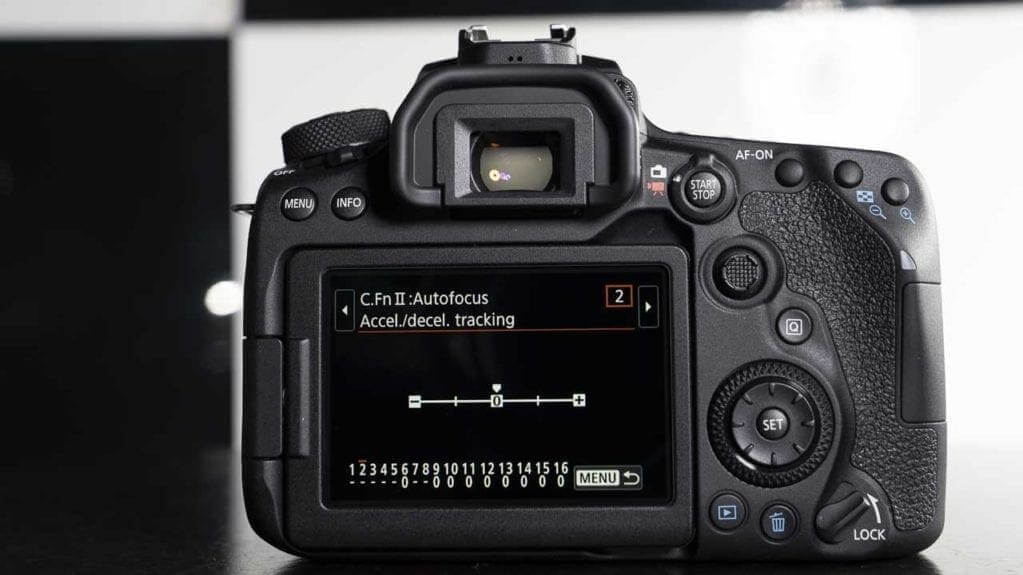 Live View AF
In Live View mode (when the image is composed on the screen on the back of the camera), the Canon 90D uses its imaging sensor for focusing. Each pixel on the sensor has two photo diodes for use by the phase detection AF system. The AF point can be set almost anywhere across the scene (across 88% of the horizontal area and 100% vertical area) in FlexiZone-Single, FlexiZone-Multi, Face detection and Tracking AF or Eye AF mode.
It's also possible to magnify any area of the screen by 5x or 10x to help with manual focusing.
Exposure Metering
The 90D has a dedicated 220,000-pixel RGB+IR metering sensor for use with the viewfinder. This divides the scene into 216 (18×12) segments for assessing exposure. The default metering mode is Evaluative metering (linked to all AF points), but there's also Partial metering (covering approximately 6.5 % of the viewfinder), Spot metering (approximately 2.0 % of viewfinder) and Center-weighted average metering.
However, in Live View mode there are 384 zones for use in Evaluative metering mode. In addition, there's Partial metering which covers approximately 4.5% of the LCD screen, Spot metering (approximately 2.6% of the screen) and Center-weighted average metering.
With a DSLR, these metering options tend to be more significant when you're using the viewfinder to compose images because you can't see the image with its capture exposure.
Video Shooting
Canon seems to have woken up to the fact that photographers want 4K video and without additional cropping. Consequently, the EOS 90D is 4K-enabled and it captures the same angle of view in 4K (3180 x 2160) mode as it does in Full-HD and in still images. Although if you prefer, you can apply a crop.
It can also shoot Full-HD video at up to 120fps, for slow-motion playback.
4K movies are shot in MP4 AVC/H.264 format at 29.97, 25fps. The maximum duration is 29mins and 59 secs while the maximum file size is 4GB.
Further good news is that the 90D has both a 3.5mm mic port and a headphone jack. That means you can record and monitor high-quality audio. In addition, there's an HDMI mini port and this can output clean 8bit YCbCr 4:2:2 colour.
Battery Life
According to CIPA-standard testing, the Canon EOS 90D has a battery life of up to 1,300 shots. This is a fair number of shots on a single charge and gives photographers the flexibility to shoot all day.
This could have real appeal to travel photographers or anyone simply taking a city break and spending all day out with their camera.
Additional Features
The Canon EOS 90D has an intervalometer built-in. This enables you to specify a number of shots between 1 and 99, or an unlimited number of images to be captured in a sequence.
Canon's Digital Lens Optimiser and Diffraction Correction systems are on board to help deliver the best results from the mounted lenses.
There's also WiFi and Bluetooth connectivity to enables images to be printed without a cable connection or shared quickly to a phone and posted on social media.
Build and Handling
Canon is aiming the EOS 90D at serious enthusiast photographers and they're a demanding bunch. They want a camera that's going to give them good service in a wide range of shooting situations and that feels comfortable in their hands. I think the EOS 90D fits the bill. It's not weatherproof, but it's made from aluminium alloy and polycarbonate resin with glass fibre and it feels solidly built with an ergonomic grip and sensibly arranged controls. Its build gives you confidencein its capabilities.
At 140.7 x 104.8 x 76.8mm (WxHxD) the EOS 90D very slightly wider, but narrower and shorter than the 80D (139 x 105.2 x 78.5mm). And at 701g (body with battery and memory card) it's 29g lighter. In use, none of those changes are very apparent, although the new camera has a marginally larger grip which helps when shooting with long lenses. I found it exceptionally comfortable when shooting with the Canon EF 70-200mm f/2.8. The camera and lens feel very well balanced and secure hanging from my hand between shots.
Controls
The Canon 90D looks and feels a little more serious or high-end than the 80D. However, apart from the addition of the joystick mentioned below, the control arrangement is nearly identical.
A control wheel around the navigation pad, and a dial just behind the shutter release let you change the exposure settings quickly and easily. There are also buttons to access key parameters such as the focus, drive, AF point selection and exposure metering modes, as well as the sensitivity (ISO) options. If you want to change the white balance setting, however, you have to dip into the Quick or main menu.
The exposure mode is set using the dedicated dial on the left side on the top-plate.
A switch on the back of the camera flicks between still and video shooting. It rotates around the still Live View activation or video start/stop record button.
Focus Points: how to select AF points on the 90D
The Canon 90D is the first EOS XXD camera to feature a multi-controller or mini-joystick on its rear. This is perfect for selecting the autofocus (AF) point while looking through the viewfinder. By default, you have to press a button to activate the AF point selection mode, but thankfully there's an option in the control customisation section of the menu that lets you set the joystick to do the job directly.
That means you can set the AF point quickly and easily while you're shooting. Of course, you still have to wake the camera up with a half-press of the shutter release to get it to respond.
It's when you're shifting the AF point around in the viewfinder that you're reminded that the EOS 90D is a DSLR rather than a mirrorless camera. With modern mirrorless cameras, the AF points extend close to the edges of the image frame, but with a DSLR they're clustered around the centre of the frame. To be fair, with 45 points and an APS-C format sensor, the 90D's standard AF system provides good coverage for an SLR, but you won't find a point in the very outer edges of the frame.
Also, if you switch to using the screen to compose images, the Live View AF system covers most of the imaging area. To be specific, 88% of the horizontal area and 100% of the vertical area.
Viewfinder and Screen
Naturally, as it's a DSLR, the Canon EOS 90D has an optical viewfinder. And it's good that it has a pentaprism rather than a cheaper pentamirror design. Helpfully, it also covers 100% of the frame so there's shouldn't be any surprises around the edges of your images.
The magnification is approximately 0.95x while the eyepoint is 22mm.
As it's an optical viewfinder, the 90D's finder can't show the impact of camera settings such as the white balance or exposure values. However, there's a wealth of other information on display including the active AF points, focus confirmation, AF area selection mode, shutter speed, aperture value and ISO speed and much more depending upon the selected settings. It's especially useful that there's an alert when light flickering is detected.
I've used the 90D in very gloomy conditions but the viewfinder gave a good, natural view. It wasn't noticeably darker than the ambient conditions.
There's also a 3-inch Clear View II TFT touchscreen with 1,040,000 dots. This provides a clear view with plenty of detail whether you are shooting in Live View mode or reviewing images. As usual, however, it can be hard to see the image you're composing in bright sunny conditions. If I was using the Canon 90D for a lot of summerime videography, I'd invest in some form of screen hood – but that's true of most cameras.
The screen is also very responsive to touch so it's great that Canon allows extensive control via the screen. You can select and adjust any of the main or quick menu options with a tap on the screen.
Performance
My first opportunity to shoot with the Canon 90D was at a go-kart track shortly before its announcement. It was one of the gloomiest in places in which I've tested a camera. There was no natural light and a few continuous lights had been set-up to augment the fluorescent strip lights. However, speeding go-karts need a fast shutter speed to freeze them so that meant pushing up the sensitivity.
These first results from the Canon EOS 90D at ISO 6400 are very impressive. Noise is kept in check very well and there's a good level of detail visible. The edges of objects within the Jpeg images don't look too harsh and the detail between them isn't mushed out.
Naturally, pushing up to ISO 12,800 results in more visible noise, but it's kept within acceptable limits. By ISO 25,600, however, the noise becomes very obvious. I'd aim to shoot at ISO 6400 or lower if possible, but I wouldn't be to concerned about going up to ISO 12,800 if the conditions demand it.
However, I'm surprised by some of the results I have from other shooting locations at sensitivities as low as ISO 400. Some fine details, for example in foliage or grass that's just out of focus, look very smudged in the Jpegs even when the Fine Detail Picture Style was used. In some cases, grass looks like a wash of colour with a few lines of contrast. The raw files have more detail but a bit of luminance noise is visible at 100% on screen. Yet there are other images, where the focus is in a different location, that look fine.
Canon EOS 90D Raw vs Jpeg
The images below show a raw file and Jpeg that were simultaneously captured at ISO 640. While the raw file has been processed using Adobe Camera Raw's default settings, the Jpeg is straight from the camera aside from resizing for web publishing. The full resolution images are available to download via this link.
The images were captured with the Picture Style set to Auto and the noise reduction at the Standard setting. Beneath the images of the full-scene, you can see 100% crops of the same area to reveal the level of noise or noise removal.
While the raw file has visible speckling, the loss of fine detail in some parts of the Jpeg is surprising. It transforms the grass and some of the foliage.
Autofocus Performance
The Canon 90D's viewfinder-based AF system copes very well with low light. There were a few misses at the go-kart track, but there were also lots of hits with a pin-sharp speeding subject.
Provided I held the active AF point over the subject, the 90D usually got it sharp. Impressively, that wasn't just in the brightest parts of the track where the continuous lights were set up, it also managed it in the darkest areas. Using a 70-200mm f/2.8 lens rather than the f/4 version certainly helped by letting a stop more light onto the AF sensor.
The Live View AF system also copes well with the low light, but it's far easier to follow a moving subject in a viewfinder than on the screen on the back of the camera.
Nevertheless, there are a couple of focusing advantages to shooting in Live View. Firstly, it allows you to use Eye AF and this is very useful with photographs of people. I found it very quickly identified the subject's eyes and got them sharp in people shots.
Another advantage is the Face detection and Tracking AF mode which locks onto and follows moving subjects.
Colour and Exposure
I find the Canon 90D's viewfinder-based Evaluative exposure metering system works well in most situations. However, occasionally, the partial and centre-weighted metering are useful occasionally. For example, with moving subjects in front of a background with variable in brightness.
Of course in Live View mode, the 90D shows the image as it will be captured. This makes the exposure metering mode less of an issue, you can just adjust the exposure settings to make the preview look right before you take the shot.
I usually rely on Canon's Standard Picture Style and it's a good general-purpose option. However, the Neutral Picture Style is also good, especially for video. The 90D doesn't have a Log mode, so the Neutral style produces the best footage for grading.
Dynamic Range
While the EOS 90D generally produces very attractive images, it doesn't have the widest dynamic range. Consequently, I'd advise against dramatically underexposing images to protect highlights. The shadows can withstand some brightening, but they look undersaturated and noisy if pushed more than about 2.5EV.
Video
Thanks to the excellent focusing system, and good colour, the Canon 90D produces appealing videos. The 4K footage has plenty of detail and the results look natural with a good level of sharpness and detail. Scroll down to see an example of 4K footage shot at a rugby match.
Canon EOS 90D Image Quality
With all the talk around full-frame, the crop-sensor Canon EOS 90D is capable of superb image quality. The camera produces nice exposures with strong colours, and it's AF system generally gets your intended subjects sharp in most situations.
Follow the link to browse and download full-resolution images
Canon EOS 90D Video Quality
This 4K (3840×2160) video is ungraded and as output from the Canon EOS 90D. It was shot at 25fps with the Picture style set to Neutral and the white balance set to Daylight. The audio was recorded using the on board mic.
The camera was supported on a Manfrotto MVK500190XV tripod kit with a MVH500AH fluid video head.
Verdict
The Canon EOS 90D is mostly very good. It has an excellent collection of features and it feels great in your hand. It may not be an all-weather camera, but it has a pleasing solidity to it. In addition, the control layout is nice and the joystick controller is a great addition.
Its autofocus systems are also both fast and effective.
This is the first time that we've seen a 32.5Mp APS-C format sensor from Canon and, on the whole, the image quality it produces is very good. If you shoot at ISO 100, you'll be very happy. And I'm very impressed by the results at ISO 6400 and ISO 12,800.
However, some of the results at ISO 400 introduce a little doubt. The shadows of some of the raw files have a bit more luminance noise than I'd expect. It's not bad, but it's visible at 100%. What's more troubling, however, is the default level of noise reduction that's applied to the Jpegs captured at the same time. It's too severe.
In some cases, it's not a problem, but every now and again, it makes some out of focus details looked too soft. I would usually recommend shooting raw files, but I think it's essential with the Canon 90D