While Canon didn't really market the PowerShot G7 X Mark II at vloggers, it proved a popular choice with those users. It has a magical combination of a comparatively large sensor, a bright lens with a useful focal length range equivalent to 24-100mm, a flip-up touch-screen and a compact form. It's ideal for slipping in your pocket to take everywhere and for using at arm's length.
Now Canon has announced the Canon PowerShot G7 X Mark III. And although in some ways it doesn't make a massive upgrade on the previous camera, there are a couple of features that could make it very popular indeed.
Firstly, whereas the Mark II's maximum video resolution is Full-HD (1920 x 1080) at 59.94 / 50 / 29.97 / 25 / 23.98 fps, the PowerShot G7 X Mark III is capable of shooting 4K video 3840 x 2160 at 29.97 / 25fps without cropping. In addition, it can shoot Full HD (1920 x 1080) footage at 119.9 / 100 / 59.94 / 50 / 29 .97 / 25 fps. Those upper frame rates make high-quality slow-motion video possible.
And in an unusual move, there's an option to shoot movies with a vertical movie aspect.
Crucially, there's also a 3.5mm mic port. I could see this being used to connect a Rode Wireless Go for cable-free audio recording.
The clincher, however, is that the Canon PowerShot G7 X Mark III is able to live-stream video. That's big news. Instead of having to shoot on your phone or use a complex set-up, you can shoot directly to Youtube using a dedicated camera.
There's also a clean HDMI output should you want it.
You can buy the Canon PowerShot G7 X Mark III from B&H Photo Video or Adorama in the US or from Park Cameras in the UK.
Features
Like the PowerShot G5 X II announced at the same time, the PowerShot G7 X Mark III has a 20.1Mp 1-inch type stacked CMOS sensor. This is a new sensor design for Canon and combined with the Canon Digic 8 processing engine, it enables very fast continuous shooting rates.
Again like the PowerShot G5 X II, the G7 X III can shoot at up to 30fps (frames per second) in RAW Burst Mode for up to 70 images. Alternatively, it can shoot at 20fps for up to 89 C-RAW files, 55 RAW images or 118 Jpegs.
This sensor is fronted by an 8.8 – 36.8mm f/1.8-2.8 stabilised lens which has a 35mm focal length equivalence of 24 – 100mm. The 24mm end is a good option for arm's-length video when looking at the screen flipped-up above the camera. The large aperture also enables the background to be blurred a little.
Key Specifications
Sensor: 20.1Mp 1-inch type Stacked CMOS
Lens: 24-100mm (equivalent) f/1.8 – f/2.8
Screen: 3-inch 1,040,000 dots
Viewfinder: n/a
Autofocus modes: AiAF (31-point, Face Detection or Touch AF with Object and Face Select and Track), 1-point AF (any position or fixed centre)
Shutter speed: 30-1/25,600sec
Sensitivity: ISO 125-12,800 expandable to ISO 25,600
Exposure mode:s Auto, P, A, S, M, Hybrid Auto, Scene, Filter, Creative Auto
Weight 304g with battery and memory card
Dimensions 105.5 x 60.9 x 41.4mm
Storage: SD/SDHC/SDXC (UHS-1 compatible)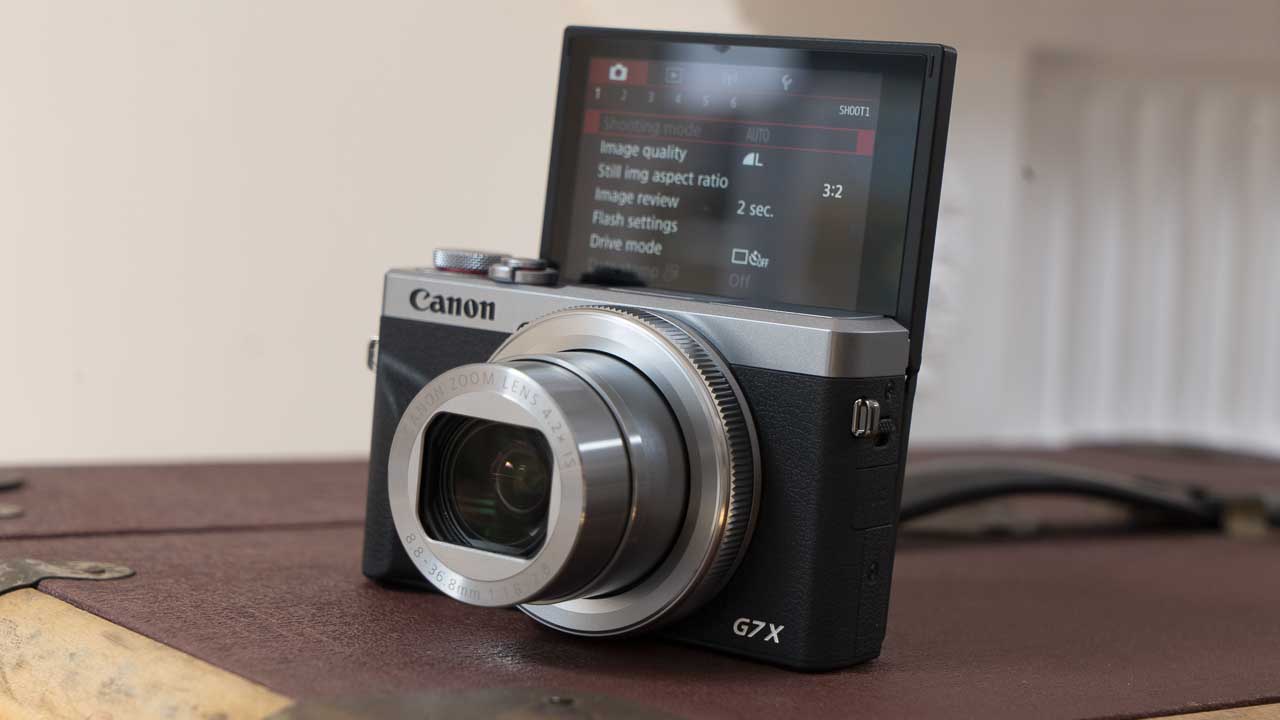 Build and Handling
The Canon PowerShot G7 X Mark III looks and feels very similar to the PowerShot G7 X Mark II. It's familiar territory.
It has a fairly understated design, with a decent grip and thumb-rest. The control layout is also logical and easy to get to grips with. A mode dial on the top of the camera allows the shooting mode to selected quickly, with program, aperture priority, shutter priority and manual exposure being available along with a collection of automatic modes.
The exposure compensation dial sits below the mode dial, making good use of the space on the top-plate.
This good use of space continues onto the lens where a control ring lets key settings be adjusted quickly.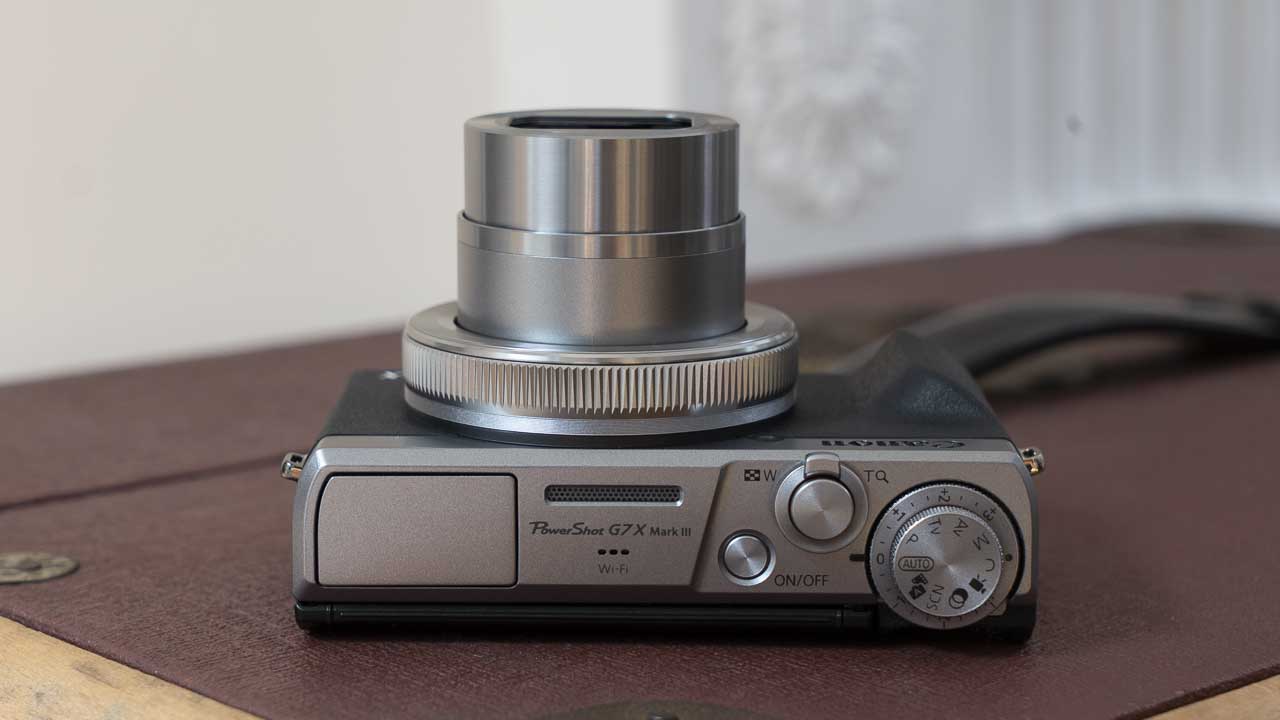 There are no surprises on the back of the camera. A dial around the navigation pad allows settings adjustments while the pad itself also provides a shortcut to the focusing, drive and flash options.
The 3-inch 1,040,000-dot screen is touch-sensitive and Canon doesn't stint on its use. You can navigate through the menu and make setting selections by tapping and swiping on the screen. It's quick and easy.
Crucially, the screen has a hinge that enables it to tip up through 180-degrees. This means it can be seen from in front of the camera. That's essential to most vloggers. And of course, thanks to the lack of a crop-factor, you can switch almost seamlessly from shooting stills or 1080p video to 4K video, there's no need to recompose the shot.
In most conditions, the screen provides a good view, but in very bright light, it can be hard to assess the finer points of the composition. This is especially true if there are lots of fingerprints on the screen, so it's well worth carrying a lens cloth to give it a wipe.
There are times when a viewfinder would be very useful. Consequently, if you're more interested in shooting stills than video, the Canon PowerShot G5 X II may be a better choice as it has a viewfinder built-in.
Performance
From the outset, it's clear that the Canon PowerShot G7 X Mark III is a snappy performer. It gets subjects sharp quickly and without fuss. Also, the camera's face detection AF is generally reliable when the screen is flipped up for vlogging and selfies.
Furthermore, the PowerShot G 7 X III usually delivers attractive colour and good exposure. However, with the exposure compensation control so readily at hand, it's easy to adjust if you need to.
Image Quality
Like the PowerShot G5 X II which uses the same sensor, it's capable of capturing a good level of natural-looking detail for a 1-inch type sensor.
Noise is kept under good control up to around ISO 3,200. But the results at ISO 6,400 are also usable. At ISO 12,800 some details in Jpegs look a bit too smudged. They're not really bad, but I'd aim to stick a lower sensitivity setting if possible.
Experienced photographers will love that the PowerShot G5 X II can also shoot raw files. At high sensitivity settings these have more speckling visible than the Jpegs, but as usual, you can apply a bespoke level of noise reduction. This means you can find a good balance between noise and detail visibility.
Where possible, I'd advise shooting raw files at the higher sensitivity settings. I tend to opt for raw and Jpeg similutaneously.
If you examine the corners of images captured at the 24mm point of the lens, you're likely to spot some softening, but it's not bad.
Live Streaming with the Canon PowerShot G7 X Mark III
Before you can live stream to YouTube from the PowerShot G7 X Mark III you need to create an image.canon account and input the details to the camera. You also need to add your YouTube channel details to the browser or app version of image.canon. I found this easiest to do on a computer via a browser. Once all that's done, it's very easy to stream direct to your YouTube channel.
Naturally, it's essential to have a strong network signal for the duration of your video. I experimented with walking out of signal range and in some cases, the video just had jump edits, but in others, there were short repeats and stutters.
The camera gives a warning if the network signal is weak, but I find it lags behind a bit. For example, on some occassions, I got the weak signal message as I returned to an area with a strong signal.
Those network issues aside, the PowerShot G7 X Mark III does a great job of live streaming. The video quality is great.
You can also send images direct from the camera to Twitter, Flicker, Google Drive or email, plus image.canon.
4K Video Image Grab
Interestingly, you can grab stills from 4K footage in-camera. Unlike with Panasonic Lumix cameras that need to be set to 4K Photo mode, you can do this on the G7 X III with any 4K video. You just tap the image grab icon when you're playing back the video. Easy!
Sample Images
Follow the link to browse and download full-resolution images.
Canon PowerShot G7 X Mark III Image Gallery
Sample Video
This 4K video was shot with the Canon PowerShot G7 X Mark III handheld and using the internal microphone.
Verdict
Although the Canon PowerShot G7 X Mark III has a lot in common with its predecessor, I think the addition of 4K video and the live streaming capability make it a worthy upgrade. It looks set to become a very popular camera amongst vloggers and anyone looking to reach an audience quickly and easily.
The PowerShot G7 X III is capable of producing very attractive images with an impressive level of detail. However, if you're more interested in shooting stills than video, the PowerShot G5 X Mark II maybe preferable because of its built-in viewfinder and slightly wider zoom range.
A key advantage of the G7X III for videographers is that it has a 3.5mm mic port, the G5X II doesn't.
Summary
Reviewer
Review Date
Reviewed Item
Author Rating