It used to be that slow motion videography was something only professional cinematographers could achieve. But advancements in consumer technology has meant there are plenty of cameras and smartphones on the market right now that can record at frame rates high enough to produce videos with slow motion effects.
In this guide we'll round up the best cameras for slow motion video that can produce stunning effects without breaking the bank.
Many camcorders and cinema cameras can record a frame rates capable of producing slow motion videos. However, because these are quite niche and expensive we focused on the consumer end for this guide to the best cameras for slow motion video.
For the purposes of our best cameras for slow motion list, we haven't included any cameras that shoot slow motion video below HD resolution.
How does a camera make slow motion video?
Essentially a camera needs to be able to record video at a high frame rate in order to produce a video in slow motion. If you think about the best slow motion videos you've seen, it's all about the fluidity of movement. The Olympic high jumper edging over the bar. The child hitting the water and the splash exploding outward. The skateboarder doing a 360 in mid-air.
When you are making a slow motion video you are slowing down your footage. If you do this with footage you recorded at a low frame rate, such as 30fps, your video will look choppy. Movements will be stuttered.
But when you slow down footage you recorded at a higher frame rate, such as 120fps – or even 940fps, as some of the options on this best cameras for slow motion are capable of – you have a lot more leeway. The extra frames you've recorded per second allow the movements in your slow motion to appear more fluid and natural.
What is the best frame rate for slow motion video?
Around 60fps is considered the minimum frame rate for slowing down video footage. This is why cameras that shoot 4K at 60fps (and now cameras that shoot 4K at 120fps) are such a big deal. Being able to shoot slow motion videos at such a high resolution gives filmmakers lots of options.
It's also worth noting that typically, the higher the frame rate you record at, the lower the resolution. So some of the cameras on this list that can shoot 940fps, for example, this will be in HD. However, they may be capable of shooting in 4K at lower frame rates.
The standard playback speed for video these days is 29.7 frames per second (30fps), at this speed each still frame gives the illusion of motion known as persistence of vision. If you shoot at frame rates above 30fps, for example at 60fps, you can then spread those 60 frames over two seconds and still create the illusion of smooth playback. So one second of actual real time filming can be spread across two seconds of playback giving the slow motion effect.
Recording = Playback
Here's a quick table that spells out how your recording frame rate translates into playback time when the playback speed is set to 30fps:
30fps = 1 second
60fps = 2 seconds
120fps = 4 seconds
240fps = 8 seconds
480fps = 16 seconds
960fps = 32 seconds
The best cameras for slow motion video effects
All of the options on our list of the best cameras for slow motion video were chosen based on our experience testing them. For a deeper dive into the many different camera types and features available, check out our range of camera buying guides.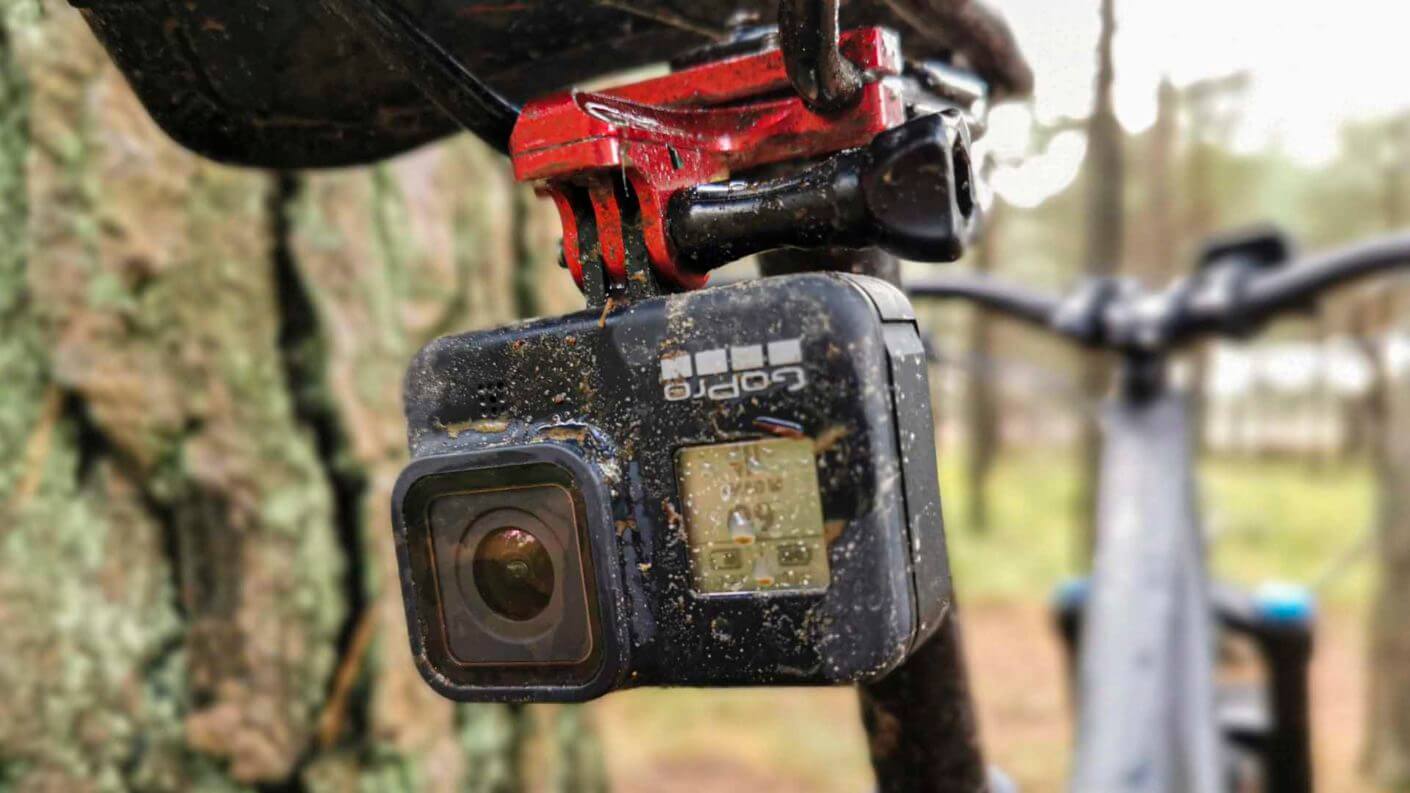 Specification
Frame Rate:

1080p at 240fps, 120fps, 4k at 60fps

Stabilization:

HyperSmooth 2.0

Livestream:

1080p Livestream capability
Screen:

2-inch touchscreen

Bit Rate:

100MBps Bit Rate 2.7K / 4K
GoPro offers some big numbers when it comes to frame rates, allowing you to film in 1080p at 240fps. What does that mean?
Well, it means you can play back footage at 1/8th speed. Essentially one second becomes eight seconds so you can film some very cool action sequences.
The GoPro Hero8 Black's 240fps footage is impressive, and if used when there's plenty of light around you'll get stunning sequences every time. Its 120fps footage is also solid.
Inside the GoPro Hero 8 Black is a 12-megapixel sensor that can also record 4K (3840 x 2160) footage at 60, 50, 30, 25 and 24fps in 16:9, as well as 4:3 4K at 30, 25 and 24fps.
The Hero8 Black can also record 2.7K in 16:9 at 60, 50, 30, 25 and 24fps, or50, 50, 30, 25 and 24fps 4:3 footage.
Price when reviewed
£329
$379
For
No need for waterproof housing
Incredible stabilisation
Stunning video quality
Against
Premium price for the brand
Mount can be tricky
Mods not available at launch
Specification
Sensor:

45Mp Full-frame Dual Pixel CMOS AF II

Frame Rate:

4K DCI or UHD at 120p, 100p / 8K DCI or UHD at 30p, 24p

Autofocus System:

Dual Pixel CMOS AF II phase detection with 5940 points in stills and 4500 points in movie mode
Screen:

3.15-inch 2.1-million dot vari-angle touchscreen

File Formats:

Raw + Jpeg/HEIF, MP4
The Canon EOS R5 price tag is steep, but by shooting 4K at 120p and 100p, you have the capability to produce high-quality slow motion videos. And with its powerful IBIS, you can shoot them handheld.
The main headline, of course, is that the Canon R5 can shoot raw 8K 12-bit video at up to 29.97fps. It's also possible to shoot in 4:2:2 10-bit in Canon Log (H.265) or 4:2:2 10-bit HDR PQ (H.265).
In lay terms, an 8K video frame is equivalent to a 35Mp image and shooting in 4:2:2 10-bit with Canon Log means there should be plenty of scope for adjusting/grading footage post-capture. It also means that the EOS R5 can be used alongside other cameras, including Canon's cine range, and the footage can be made to match.
As I mentioned earlier, the footage is captured using the full width of the sensor so the video isn't cropped.
Alternatively, 4K video can be recorded at up to 119.88fps in 4:2:2 10-bit in Canon Log (H.265) or 4:2:2 10-bit HDR PQ (H.265) 4:2:2 10-bit in Canon Log or 4:2:2 10-bit HDR PQ. That's great news for slow motion video fans!
If you prefer to record 4K video to an external storage device, there's an HDMI connection that can cope with recording at up to 59.94fps.
Price when reviewed
£4199
$3899
For
45Mp full-frame sensor with full AF coverage
12fps/20fps continuous shooting with continuous AF
Uncropped internal 8K video recording for up to 20 minutes
Against
8K video will require lots of storage capacity
Specification
Camera type:

Compact

Sensor:

20.1Mp 1-inch type (13.2mm x 8.8mm) Exmor RS CMOS

Lens:

ZEISS Vario-Sonnar T* 9-72mmm (24-200mm equivalent) f/2.8-4.5

Autofocus:

357 focal-plane phase-detection and 425 contrast-detection AF points

Burst Mode:

90fps in JPEG or Raw format in Single Burst Shooting mode

Video:

4K in-body movie recording with full pixel readout
Viewfinder:

0.39-inch 2,359,296-dot OLED (pop-up)

Screen:

Tilting 3-inch 921,600-dot TFT touchscreen (up 180-degrees, down 90-degrees)

Storage:

SD/SDHC/SDXC

Dimensions (WxHxD):

101.6 x 58.1 x 42.8 mm / 4 x 2 3/8 x 1 11/16-inch

Weight:

302g / 10.7oz with battery and SD card or 275g / 9.8oz body only
Like the RX100 VI, the RX100 VII is capable of shooting 4K video with full pixel readout and S-Log2, S-Log3 and HLG profiles. However, in a major upgrade for vloggers, there's a 3.5mm microphone port, which means the audio can be much improved.
If you're interested in creating slow-motion video, the RX100 VII has the same high frame rate (HFR) options as the RX100 VI, 205, 500 and 1000fps.
Perhaps the most exciting upgrade, that the RX100 VII makes, however, is with the autofocus system. The RX100 VI is no slouch in this area, but the RX100 IV has 357 phase detection points and 425 contrast detection points, plus Real-time Tracking AF and Real-time Eye AF for humans and animals. In addition, the Real-time Eye AF for Humans works in video mode.
Inside the RX100 VII is a 1-inch, stacked 20.1-megapixel Exmor RS CMOS sensor with a DRAM chip and Sony's Bionz X image processor. On the outside is a ZEISS Vario-Sonnar T* 24-200mmviii F2.8-4.5.
What should really get people excited, though, is the technology the RX100 VII inherits from Sony's A9. Like the A9, the RX100 VII's image sensor realises blackout-free shooting for a completely live view, even when continuous shooting at 20fps.
Price when reviewed
£1200
$1198
/
€1300
For
Best-in-its-class AF system
Stabilised 4K video
Great focal length range
Against
Front lacks grip
Limited use of the touchscreen functionality
Specification
Video Resolution:

8K at 30fps, 4K at 120fps

Zoom:

100x Space Zoom
The Galaxy S20 Ultra is not short on features, beginning with its camera. The quad camera array on the rear of the S20 Ultra comprises a 12-megapixel ultra-wide camera, 108-megapixel wide-angle camera, 48-megapixel telephoto camera and a depth vision camera.
What's more, the S20 Ultra's pixels capture more light thanks to nona-binning technology. This effectively combines nine pixels into one creating larger photosites that capture more light.
On the front of the Ultra is a 40-megapixel selfie camera. Photo mode now offers what is called Single Take. In this mode, when you press the shutter the S20 Ultra records a short clip of video, and then AI selects your best frames.
Quick Take sees the Galaxy S20 Ultra employ all of its cameras at the same time. It then provides you with a selection of your best shots at different focal lengths.
The Galaxy S20 Ultra also adds 8K video recording at 30fps from the 108MP camera, as well as 4K at 120fps, Full HD and HD. 8K videos can be cast on Samsung's 8K-ready TVs, or you can upload footage directly to YouTube.
Galaxy S20 Ultra users can also now film in Pro Mode. This means you have all of the same controls that you would were you filming with a DSLR.
Another interesting feature that proved very clever in my initial tests was the zoom-in mic. The Galaxy S20 Ultra's microphone will effectively zoom in 6x to seek audio, and then follow that sound. This might be useful, for instance, if you were filming a live band or a speech at a wedding, and wanted to eliminate the background noise around you.
Space Zoom is the other big feature Samsung has introduced to its Galaxy S20 family. This is a new combination of hybrid optical zoom and AI-powered digital zoom. With the S20 Ultra you get 100x Space Zoom (the S20+ and S20 each extend 30x).
Specification
Camera type:

Stabilised action cam

Sensor:

12Mp 1/2.3-inch CMOS

Lens:

26mm (35nn focal length equivalence) f/2.0

Sensitivity range:

ISO 100-3,200

Stills shooting modes:

Single Shot, Panorama, Timelapse, Motionlapse, Hyperlapse
Video resolution and frame rates:

4K Ultra HD: 3840×2160 24/25/30/48/50/60p, FHD: 1920×1080 24/25/30/48/50/60/120p

Max Bit rate:

100Mbps

Dimension:

121.9×36.9×28.6mm

Weight:

116g
At £329 the Osmo pocket has been priced aggressively and is aimed at today's growing YouTube and Instagram generation.
However, if you're a relatively normal individual and want a decent video camera to have some fun with the family or friends, the Osmo Pocket should also definitely be considered.
Inside is a 1/2.3-inch CMOS sensor, 12mp effective which is fronted by a f/2.0 lens with an 80º FOV. ISO range is between 100-3200 for both video and stills.
Video is recorded in 4K Ultra HD at 24/25/30/48/50/60p and in Full HD at 24/25/30/48/50/60/120p. Movies are captured in MP4/Mov and still JPEG, DNG or both. Files are stored on a MicroSD up to 256GB.
It features an electronic shutter with a range of between 8s – 1/8000s. Still, photo modes include Single Shot, Panorama, Timelapse, Motionlapse.
You'll also find Mechanical image stabilisation, and a 875mAh battery supplies the Pocket with 140 minutes of power and takes 73 minutes to charge.
The Osmo Pocket is small, measuring just 121.9 x 36.9x 28.6mm and weighing in at 116g.
The feature list is impressive, and the connection through to the Mimo App greatly extends the functionality. And the fact that the design is modular, enabling you to add extras such as the jog wheel, phone adapter or plug in an external mic also boosts the abilities of this small device further.
Price when reviewed
£329
$399
For
Excellent stabilisation
High-quality video footage
Very easy to use and video can be edited on a smartphone using the DJI app or on a computer
Against
Works best with the Control Wheel
No live streaming
Specification
Video Resolution:

5.7K at 30fps, 4K at 50fps, 3K at 100fps

Stills Resolution:

18 megapixels
Stabilisation:

Built-in FlowState IS technology
A successor to the ONE, the Insta360 ONE X shoots 4K at 50fps and 3K at 100fps in addition to its 5.7K 30fps footage. It can also record 18-megapixel still images.
Last year Insta360 debuted its new FlowState stabilisation technology, and in the ONE X this gets a total revamp so that it can analyse movement in all directions and stabilise your videos without the need of external accessories.
There's also a new TimeShift feature, which allows users to adjust the speed of different parts of a video, including cinematic slow-motion to emphasise key moments.
TimeShift also allows you to frame your shot in any direction within your spherical video footage. The ONE X's editing app also allows users to re-frame footage from any vantage point. The app also promises to remove your selfie stick from footage, giving the impression that the ONE X is floating in mid-air.
Other features include a Bullet Time shot, inherited from the ONE, in which the camera captures footage from an orbiting perspective.
There's also a new Drifter camera dart accessory in which you can snap the ONE X and throw it to capture airborne slow-motion footage Insta360 calls Drift Shots.
For its modest price tag, the Insta360 ONE X packs a lot of spec and functionality and is arguably one of the best 360 cameras you can buy today.
For
Superb image quality
Live-streaming capability
Pocketable, portable design
Against
Expensive
Battery life could be longer
Canon PowerShot G7 X Mark III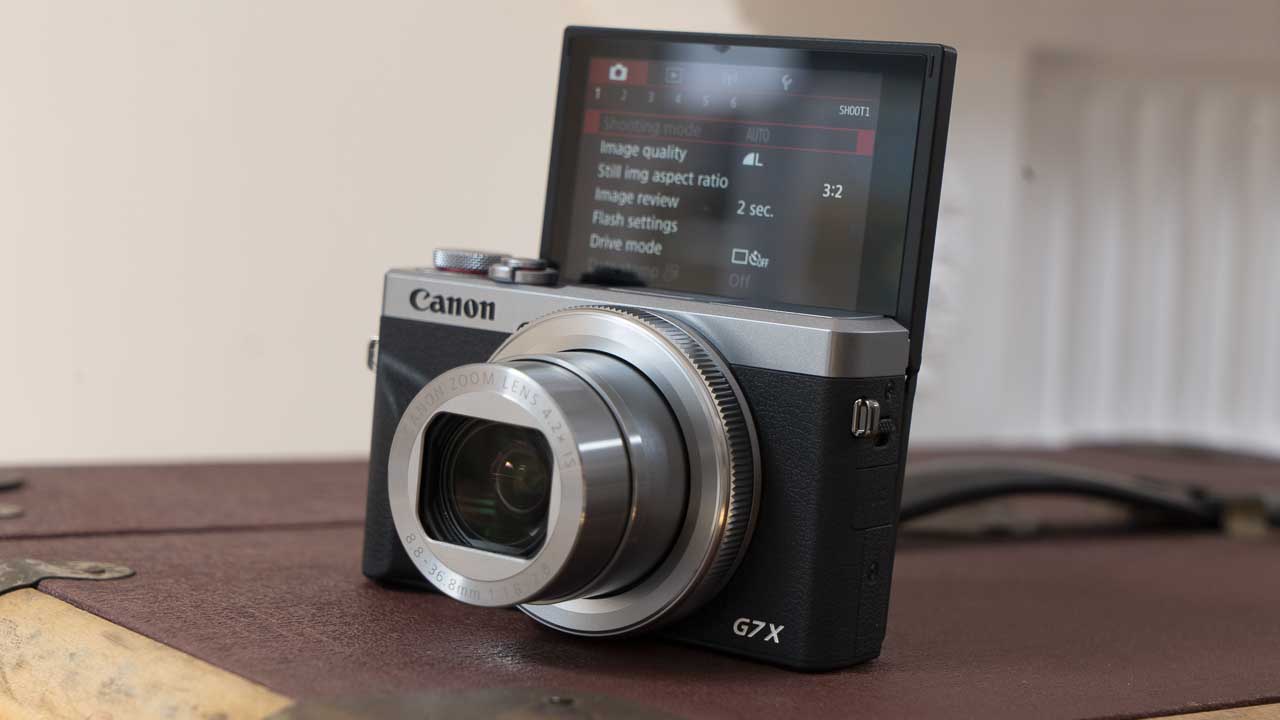 Specification
Camera type:

Compact

Sensor:

20.1Mp 1-inch type Stacked CMOS

Lens:

24-100mm (35mm equivalent) f/1.8 – f/2.8

Viewfinder:

0.39-inch type 2,360,000-dot OLED

Screen:

3-inch 1,040,000-dot tilting touchscreen
Autofocus system:

AiAF (31-point, Face Detection or Touch AF with Object and Face Select and Track), 1-point AF (any position or fixed centre)

Sensitivity range:

ISO 125-12,800 expandable to ISO 25,600

Dimensions (W x H x D):

105.5 x 60.9 x 41.4mm

Weight:

304g with battery and memory card
Although in some ways the G7 X Mark II doesn't make a massive upgrade on the previous camera, there are a couple of features that could make it very popular with videographers.
Firstly, whereas the Mark II's maximum video resolution is Full-HD (1920 x 1080) at 59.94 / 50 / 29.97 / 25 / 23.98 fps, the PowerShot G7 X Mark III is capable of shooting 4K video 3840 x 2160 at 29.97 / 25fps without cropping. In addition, it can shoot Full HD (1920 x 1080) footage at 119.9 / 100 / 59.94 / 50 / 29 .97 / 25 fps. Those upper frame rates make high-quality slow-motion video possible.
And in an unusual move, there's an option to shoot movies with a vertical movie aspect.
Crucially, there's also a 3.5mm mic port. I could see this being used to connect a Rode Wireless Go for cable-free audio recording.
The clincher, however, is that the Canon PowerShot G7 X Mark III is able to live-stream video. That's big news. Instead of having to shoot on your phone or use a complex set-up, you can shoot directly to Youtube using a dedicated camera.
There's also a clean HDMI output should you want it.
Price when reviewed
£700
$699.99
For
Live-streaming possible
No cropping in 4K video mode
Excellent blend of touch and button/dial control
Against
No viewfinder
Would be nice if the ND filter were stronger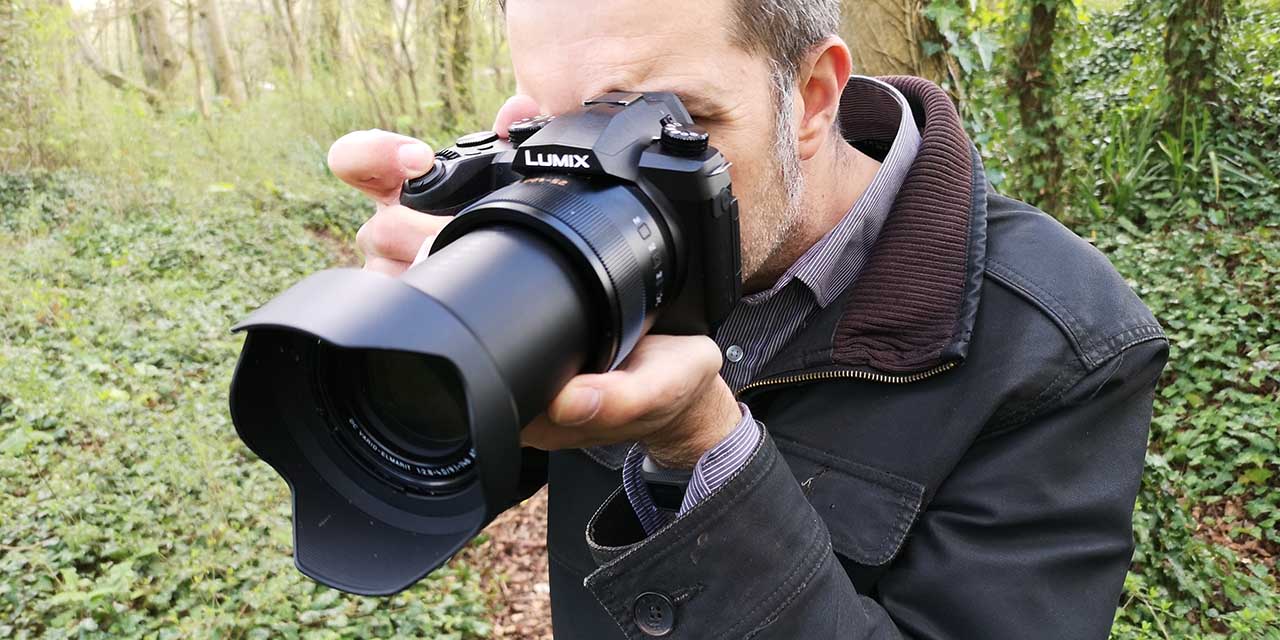 Specification
Sensor:

20MP 1-inch BSI-CMOS Sensor

Stabilization:

5-axis Optical Image Stabilization

Video:

4K (UHD) - 3840 x 2160
Slow Motion :

120 fps High-Speed Video

Viewfinder:

2360k-dot EVF

Lens:

25-400mm F2.8-4.0
Launched in early 2019, Panasonic's revamped FZ1000 II packs a load of great video features, including a high speed mode that records videos at 120fps for slow motion effects.
You can also record 4K at 30fps and save it in MPEG-4 and H.264. The addition of a microphone port, 5-axis Hybrid OIS+ and the camera's 3-inch, 1240K-dot fully articulated touchscreen also make the FZ1000 II a pretty formidable vlogging camera.
There's even a new Auto Marking feature that lets you highlight your favourite still frames from your video footage.
A new Zoom Compose Assist tool is also quite clever. With this enabled the FZ1000 II will track your subjects even when they leave the frame when zoomed in. What it does is swap back to a wider view of the scene so you can re-compose your subject and zoom back in.
The other main upgrades in this refresh are a revamped 3-inch touchscreen that's fully articulated, an improved electronic viewfinder, more customisation, Bluetooth and, of course, 4K video and Panasonic's 4K Photo, Post Focus and Focus Stacking modes.
Get the Panasonic FZ1000 II on Amazon UK and Amazon US.
Price when reviewed
£769
$735
For
Large 1-inch sensor
Superb lens
Excellent video features
Against
FZ2000 is only slightly more expensive, with more features