Audio manufacturer RØDE, has made a range of announcements at this year's NAB Show in Las Vegas. The company has introduced seven new products and product updates that will be launched over the coming weeks, including new firmware updates for the Wireless GO II and RØDECaster Pro II, groundbreaking new products like the Streamer X, RØDECaster Duo, and PodMic USB and accessories.
The new Wireless GO II firmware update will unlock more features for what is already one of the most feature-packed compact wireless microphone systems available. This includes the ability to record audio, on-board, as WAV files for easy transfer to a computer on-the-go and start/stop on-board recordings using the transmitter and receiver power buttons. Additionally, new camera models have been added to the camera preset feature, which was introduced in the most recent firmware update, and several system enhancements and workflow improvements.
The new RØDECaster Pro II firmware update unlocks an incredible hidden feature: wireless microphone connectivity. Users will be able to connect any RØDE Series IV wireless transmitter – including the Wireless GO II and Wireless ME – for recording pristine wireless audio directly to the RØDECaster Pro II. This feature is a world-first and makes the RØDECaster Pro II even more versatile, with more inputs and outputs than any other device of its kind on the market.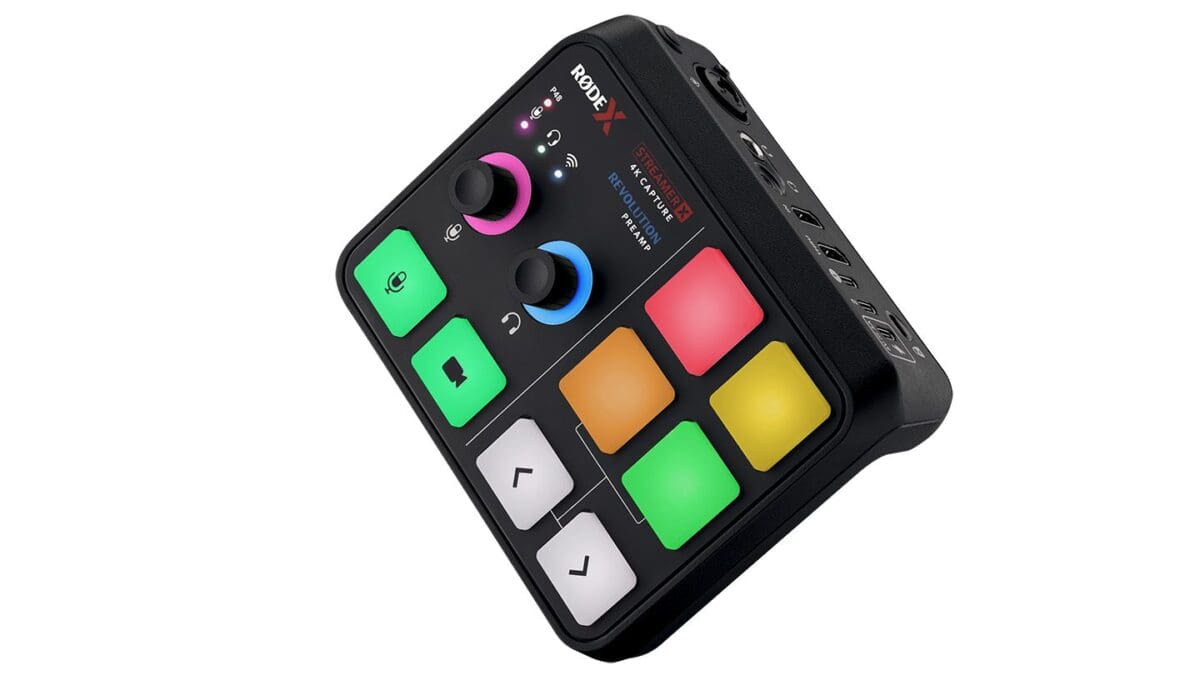 The Streamer X is a revolutionary new product that combines a professional audio interface and video capture card in a compact, easy-to-use console. It features studio-grade audio inputs for XLR and line-level devices, headsets, and RØDE wireless microphones, with an ultra-low-noise, high-gain Revolution Preamp™ and powerful APHEX audio processing delivering pristine sound quality. The Streamer X also offers 4K30 / 2K60 streaming and up to 2K120 / 4K60 pass-through for incredible video quality in various applications, from streaming and gaming to podcasting and content creation, to business presentations. Two USB-C connections seamlessly accommodate dual PC setups, and four customizable SMART pads allow for on-the-fly triggering of sound or voice FX and other actions on a computer. The Streamer X is also fully compatible with RØDE software solutions, including UNIFY, RØDE Central, and RØDE Connect, for expanded functionality and unmatched flexibility.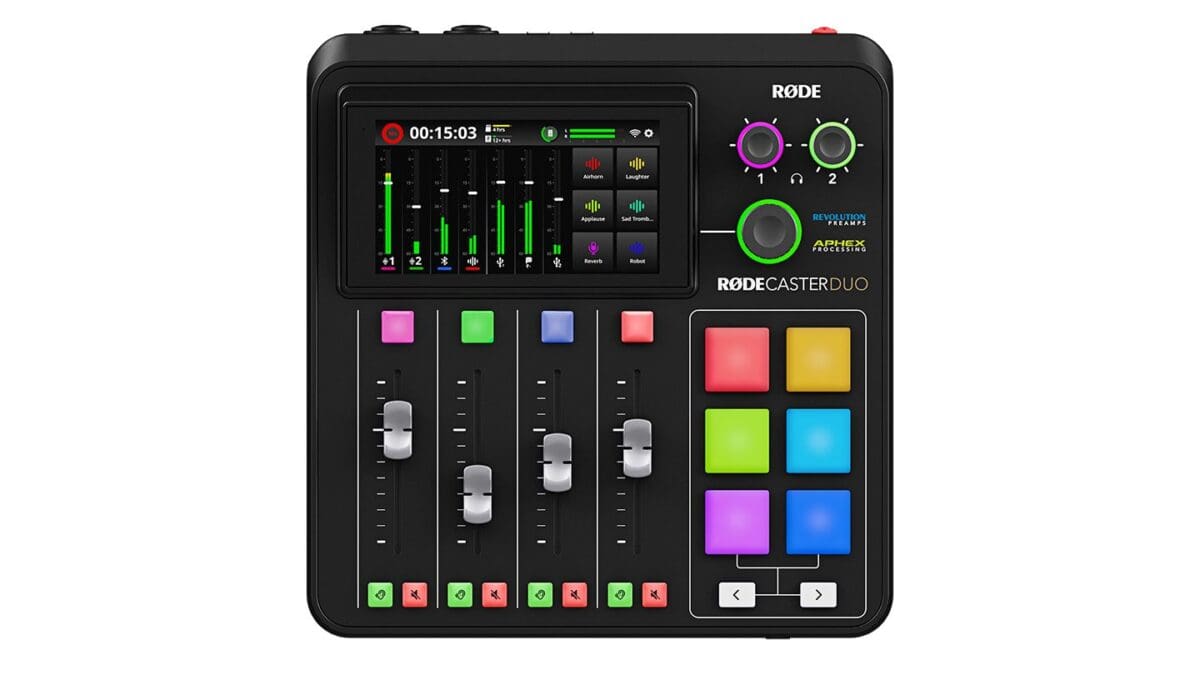 The RØDECaster Duo is a compact and incredibly powerful all-in-one audio production solution for podcasters, streamers, musicians, and content creators. It offers the same unmatched feature set and peerless versatility as the revolutionary RØDECaster Pro II. It has the same high-power quad-core audio engine, Revolution Preamps, APHEX audio processing, and endless customizability – now in an even more compact and portable form factor.
The PodMic USB is an ultra-versatile, broadcast-grade dynamic microphone for podcasting, streaming, and content creation. It offers the same incredible sound quality and compact yet rugged form factor as the best-selling PodMic, with a powerful new feature up its sleeve: XLR and USB connectivity. When using the analogue XLR output, the PodMic USB is the same as the original, albeit with a sleek new finish and studio-grade pop filter.
Rode PodMic USB
This broadcast-grade dynamic microphone is designed for podcasting, streaming and content creation. It delivers the same sound quality and compact yet rugged form factor as the PodMic but with XLR and USB connectivity. 
RodeCaster Backpack
This backpack is specifically designed to carry the RodeCaster series of consoles, including the RodeCaster Pro, RodeCaster Pro II, and RodeCaster Duo along with microphones, studio arms and other accessories, as well a laptops. It has a durable Alcantara handle, ballistic nylon straps and a water-resistant exterior.
Wireless Go II Charging Case
Designed specifically for the Wireless GO II, this charging case can hold the transmitters and the receiver. It has an integrated battery to enable up to three full recharges for up to 30 hours of continuous use.