Live streaming was becoming increasingly popular before Covid-19, but the current pandemic has made this capability a necessity for people across many different industries. In this guide we will round up our picks for the best cameras for live streaming.
Before we begin, a caveat: we won't be covering webcams in this post. There are plenty of great, cheap, plug-and-play webcams out there, but if you are vlogging or even just leading a call with clients, you really want to look your best.
Even high-spec MacBooks and PCs will have built-in webcams that produce burnt highlights and over-the-top colours. Using your 'proper' camera as a webcam for live streaming gives you not only better exposures but more control over depth of field, focal length and more.
Please note, though, that we are not covering professional cinema cameras and camcorders in this post. Canon's EOS C cinema cameras and XF professional camcorders, for instance, can stream beautiful footage, but their budgets are likely beyond what the average vlogger is looking to spend or even get to grips with!
And that's who we are targeting in this guide to the best cameras for live streaming: vloggers who are seeking to improve the quality of their video footage without breaking the bank. Some of you out there may own these cameras already, and some of you may be looking to make your next purchase based on which cameras can live stream.
We hope to help you find the answer.
Can I use my camera as a webcam?
On it's own, no, you can't use your camera as a webcam. This is because digital cameras have digital to analogue converters built inside them that translate the 0s and 1s into the images you see on screen.
A webcam relies on a digital signal, so simply connecting your camera to your computer via USB won't convert it to a webcam. However, in this post-Covid age of team calls many manufacturers are releasing firmware updates for their recent cameras that allows them to be used as webcams.
To date, Canon, Panasonic, Fujifilm and Olympus have all released beta webcam software for select cameras.
Alternatively, if your camera has an HDMI out or USB port you can use it as a webcam for live streaming. All you need is a USB or HDMI cable, software that allows for plug-and-play streaming and compatible video conferencing software. Or you can connect it via a capture card.
Which cameras can live stream?
Our picks for the best cameras for livestreaming are based on our experience testing them. For a deeper dive into the many different camera types and features available, check out our range of camera buying guides.
Specification
Imaging Sensor:

1/1.9-inch 8:7 aspect ratio

Max Resolutions and framerates:

5.3K60, 4K120, 1080p240

Color depth:

10-bit

Image Stabalisation:

HyperSmooth 5.0 and 360º Horizon Lock

Touch Screen display:

Yes
Photo reolsution:

27mp

Auto tagging of footage:

Yes

Enduro battery:

Included

Dimensions:

71.8x33.6x50.8mm

Weight:

154g
Is the GoPro Hero11 Black – and don't discount the Hero8 or Hero9 Black either – the best camera for live streaming? In some ways you can make the case.
It doesn't boast the full-frame sensor that other live-streaming cameras on this list provide, but everyone who has used a Hero Black camera can attest not only to its image quality, but its convenience.
The GoPro Hero11 Black is not much bigger than the cheap plug-and-play options you might buy, but its image quality is out of this world. This is thanks to a larger sensor that was introduced in this iteration and the powerful GP2 chip that was added in the Hero10 Black (see below).
Using a hotspot on your phone with the GoPro app and GoPro's superb HyperSmooth stabilisation (and the Hero11's new Horizon Lock), you can vlog from anywhere, even walking down the street.
Check out our tutorial on how to set up your GoPro for live streaming.
Price when reviewed
£499
$499
Specification
Photo :

23MP

5.3K:

60fps

4K:

120fps

Video stabalisation:

HyperSmooth 4.0

LCD:

Front and Rear (Touch screen)

Battery:

Removable 1720mAh Lithium-Ion
Slow-mo:

8X

Waterproof:

33ft (10m)

Processor:

GP2

Cloud compatibility:

Auto upload to GoPro cloud (Sub required)

Voice control:

Yes

Livestreaming:

1080p
While internal electronics are never the most exciting of upgrades, the performance they bring often is. GoPro's big addition to the Hero10 Black was its powerful GP2 processor, delivering more power and a major boost to framerate options, HyperSmooth 4.0, Auto file uploads, more Mods and upgrades.
In many ways, the GoPro Hero10 Black is a refinement of the Hero9. In addition to the major power boost the GP2 chip brings to to all of the camera's features, there are also a lot of tweaks and tools to help you improve your image and video quality.
For instance, GoPro helped to tackle bad low light video with a new 3D Noise Reduction, while new local tone mapping improves the subtle detail of the video content, enriching subjects and their surroundings. Live webstream has also been streamlined with more features, compatibility and ease of use.
Though it's now been superceded by the Hero11 Black, the GoPro Hero10 Black is still a formidable option and one of the best action cameras on the market. With every release, GoPro manages to find a way to refine its market-leading product.
Price when reviewed
£499
$499
Canon PowerShot G7 X Mark III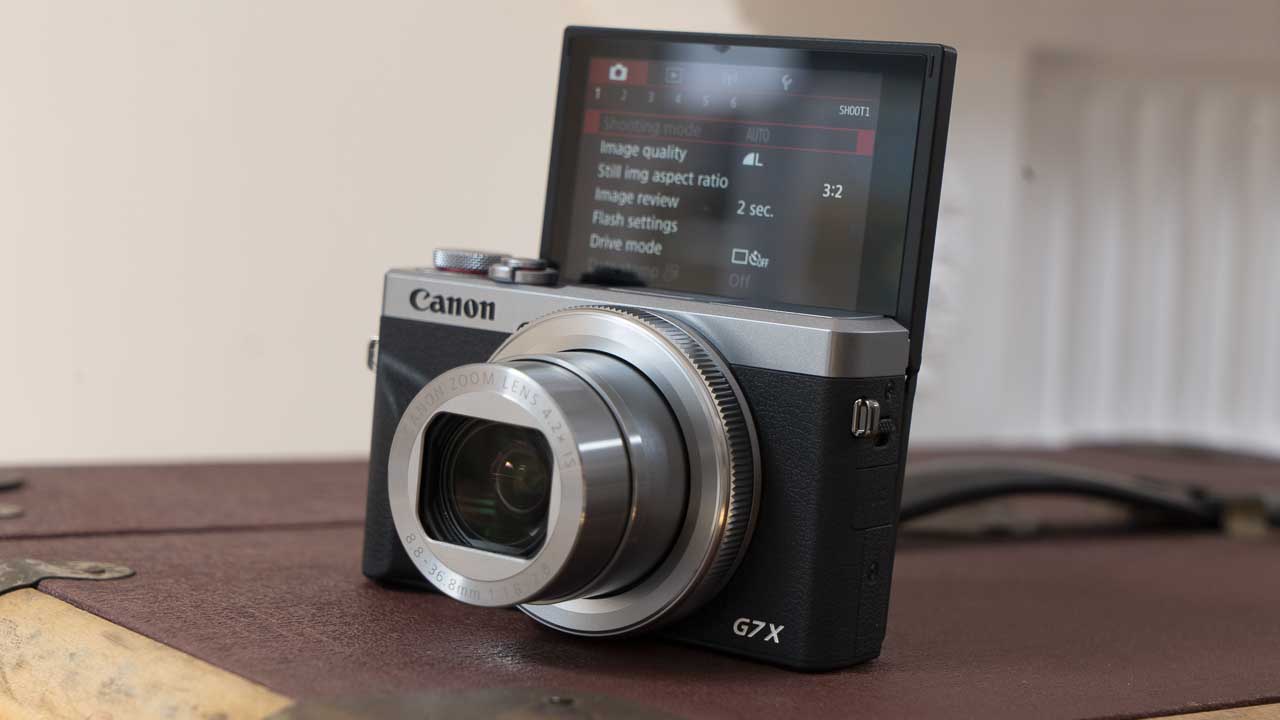 Specification
Camera type:

Compact

Sensor:

20.1Mp 1-inch type Stacked CMOS

Lens:

24-100mm (35mm equivalent) f/1.8 – f/2.8

Viewfinder:

0.39-inch type 2,360,000-dot OLED

Screen:

3-inch 1,040,000-dot tilting touchscreen
Autofocus system:

AiAF (31-point, Face Detection or Touch AF with Object and Face Select and Track), 1-point AF (any position or fixed centre)

Sensitivity range:

ISO 125-12,800 expandable to ISO 25,600

Dimensions (W x H x D):

105.5 x 60.9 x 41.4mm

Weight:

304g with battery and memory card
There's a lot to love about this little camera. Firstly, the PowerShot G7 X Mark III is capable of shooting 4K video 3840 x 2160 at 29.97 / 25fps without cropping. In addition, it can shoot Full HD (1920 x 1080) footage at 119.9 / 100 / 59.94 / 50 / 29 .97 / 25 fps. Those upper frame rates make high-quality slow-motion video possible.
And in an unusual move, there's an option to shoot movies with a vertical movie aspect.
Crucially, there's also a 3.5mm mic port. I could see this being used to connect a Rode Wireless Go for cable-free audio recording.
The clincher, however, is that the Canon PowerShot G7 X Mark III is able to live-stream video. That's big news. Instead of having to shoot on your phone or use a complex set-up, you can shoot directly to Youtube using a dedicated camera.
There's also a clean HDMI output should you want it.
Price when reviewed
£700
$699.99
For
Live-streaming possible
No cropping in 4K video mode
Excellent blend of touch and button/dial control
Against
No viewfinder
Would be nice if the ND filter were stronger
Specification
Camera type:

Mirrorless

Announced:

USA: 14th October 2020, UK: 25th February 2021

Sensor:

24.1Mp APS-C format (22.3 x 14.9mm) CMOS

Processor:

Digic 8

Lens mount:

Canon EF-M

Sensitivity range:

Stills: ISO 100-25,600 expandable to ISO 51,200, 4K Video: ISO 100-6400, Full HD & HD: ISO 100-12,800 expandable to ISO 25,600

AF system:

Dual Pixel CMOS phase detection with up to 3975 positions and 143 automatically selectable points

Viewfinder:

0.39-type 2,360,000-dots OLED EVF
Screen:

Touch-sensitive vari-angle 3.0-inch LCD with 1,040,000 dots

Video resolution:

4K (3840 x 2160) at 23.98, 25 fps Full HD: (1920 x 1080) at 59.94, 50, 29.97, 25, 23.976 fps), HD (1280 x 720) at 119.9, 100, 59.94, 50 fps

Max continuous shooting rate:

10fps for up to 36Jpegs or 10 raw files

Shutter speed range:

30-1/400 sec, Bulb

Built-in flash:

GN (ISO 100) 5

Battery:

Li-ion LP-E12, Viewfinder: Approx. 250 shots Live view: Approx 305 shots

Dimensions (W x H x D):

116.3 x 88.1 x 58.7mm

Weight:

387g (black), 390g (white) including battery and memory card
The Canon EOS M50 Mark II is a replacement to the original EOS M50, which adds the ability to stream live to a YouTube channel via a computer or smartphone with an internet connection, as well as the option to shoot vertical video.
Another upgrade is that the M50 II's Eye AF works when shooting video or stills.
In our tests, the EOS M50 Mark II produces high-quality footage. The colours and exposure match the quality of its stills, and its contrast-detection focusing also performs well.
Like its predecessor, the Canon M50 Mark II is an attractively-sized, well-sculpted camera with a good-quality sensor, a responsive vari-angle touchscreen, a decent electronic viewfinder and a very-capable autofocus system.
Price when reviewed
£589
$599
For
Excellent image quality
Superb implementation of touch-control
Good-quality viewfinder built-in
Against
4K video mode crops the frame
Limited lens range
Specification
Video Resolution:

Stream in 4K at 30fps

HDMI out:

Yes
Built-in WiFi:

Yes

Stabilisation:

In-body image stabilisation
Yes, we know the A7 III has been replaced by the Sony A7 IV, but the A7 III – while one of the most expensive options on this list of the best cameras for live streaming – remains an excellent camera and is more affordable than its successor. As Sony's all-rounder in its A7 series of cameras, it offers a wealth of video capabilities, superb dynamic range and can perform very well in low light. And the ability to stream in up to UHD 4K resolution at 30fps can really transform your live stream footage.
Though it's billed as Sony's all-rounder, the A7 III's video specs are pretty solid. When the camera is set to record 4K video it uses full pixel readout without pixel binning. This means it gathers around 2.4x as much data as is needed for 4K movies. It then oversamples the files to produce 4K footage with better depth and dynamic range.
There's also S-Log2 and S-Log3 available for recording flat footage ready for grading, and a Hybrid Log-Gamma (HLG) picture profile is provided for displaying video direct from the camera on HDR (HLG) compatible televisions.
There's also a Zebra display, Gamma Display assist and proxy recording.
In addition, Full HD footage can be recorded at up to 120/100p (NTSC/PAL) for slow-motion playback.
Price when reviewed
£1699
$1999
For
Good-quality 24Mp full-frame sensor
Excellent autofocus system
Attractively priced in the full-frame market
Against
Minimal use of the screen's touch-sensitivity
Tilting rather than vari-angle screen
Complex menu
Specification
Video Resolution:

Stream in up to 4K DCI at 30fps (4K30)

Audio:

3.5mm mic port
HDMI out:

Yes

Screen:

Vari-angle flip
As well as stills the GH5 is designed to shoot 4K video and it has an extensive range of features to give it appeal to professional videographers. Aspects such as the variable frame rates and 10-bit recording will be of particular interest along with the ability to add V-LogL recording via an optional software key.
The GH5 offers videographers the kind of specification and video quality that is normally only made possible by a much larger, more expensive cinematic camera. It's even possible to connect XLR mic via an optional adaptor.
In addition to the extensive range of video quality, format and frame rate options, the GH5 has a high-quality viewfinder, excellent vari-angle touch-screen and both 4K Photo and 6K Photo mode to simplify capturing fleeting moments. It's also dust and weatherproof so you can use it without concern outdoors.
What's more, Panasonic has shown real commitment to this camera. The company has continually issued new firmware releases that add relevant new technology. In particular, firmware version 2.0 added:
4K 4:2:2 10-bit 400Mbps ALL-Intra
FHD 4:2:2 10-bit 200Mbps ALL-Intra
4K HDR video in Hybrid Log Gamma
6K anamorphic mode
4K anamorphic 4:2:2 10-bit 400Mbps ALL-Intra
De-squeeze assist viewing mode
Improved AF and IS in video modes
Find the best deals on the Panasonic GH5 and accessories at Amazon UK and Amazon US.
Price when reviewed
£1799
$1499
For
Extensive video specification
High-quality stills and video
High-quality EVF and vari-angle touch-screen
Against
AF system not up to shooting sport
V-Log modes are an extra expense
Badly positioned Display button
Specification
Video Resolution:

Stream in 5.7K at 30fps,4K at 50fps or 3K at 100fps

Stabilisation:

6-axis FlowState stabilisation
Aspect Ratio:

Stream in 360 or 16:9

Exposure Controls:

Manual exposure controls
A successor to the ONE, the Insta360 ONE X shoots 4K at 50fps and 3K at 100fps in addition to its 5.7K 30fps footage. It can also record 18-megapixel still images.
Last year Insta360 debuted its new FlowState stabilisation technology, and in the ONE X this gets a total revamp so that it can analyse movement in all directions and stabilise your videos without the need of external accessories.
There's also a new TimeShift feature, which allows users to adjust the speed of different parts of a video, including cinematic slow-motion to emphasise key moments.
TimeShift also allows you to frame your shot in any direction within your spherical video footage. The ONE X's editing app also allows users to re-frame footage from any vantage point. The app also promises to remove your selfie stick from footage, giving the impression that the ONE X is floating in mid-air.
Other features include a Bullet Time shot, inherited from the ONE, in which the camera captures footage from an orbiting perspective.
There's also a new Drifter camera dart accessory in which you can snap the ONE X and throw it to capture airborne slow-motion footage Insta360 calls Drift Shots.
For its modest price tag, the Insta360 ONE X packs a lot of spec and functionality and is arguably one of the best 360 cameras you can buy today.
For
Superb image quality
Live-streaming capability
Pocketable, portable design
Against
Expensive
Battery life could be longer
Specification
Video:

4K HDR (HLG) recording, 30fps, 8-bit, S-Log3 and S-Log2 gamma

Screen:

180-degree tilting touchscreen
Autofocus:

425 Phase detection AF points and 425 Contrast detection AF points, Real-Time AF

Audio:

3.5mm mic port
Videographers will also be impressed by the A6400's sterling video capabilities. For instance, it can shoot 4K (3840 x 2160 at up to 100Mbps) video in super 35mm format with full pixel readout and no pixel binning. This means there's oversampling and around 2.4x as much data is gathered than is needed for the final video.
There's also a choice of XAVC S (MPEG-4 AVC/H.264) or AVCHD (MPEG-4 AVC/H.264) format. In addition, 4K HDR (HLG) recording is available for playback on compatible televisions and S-log3 and S-log2 gamma modes are provided to give greater scope for post-capture grading.
The S-Log gamma curves enable you to capture up to 1300% wider dynamic range than is normally possible. The result is very dull, flat looking footage, but after grading to introduce some contrast, you are left with videos that have both highlight and shadows detail. The S-Log3 setting also gives up to 14Ev latitude.
While there's a 3.5mm port to connect an external mic, headphones can only be attached via the optional hotshoe adapter. However, using the adapter blocks the view of the screen when it's tipped up.
What's more, truly impressive innovations in AF technology make the Sony A6400 one of the best live streaming cameras you can buy today.
Canon EOS Rebel SL3 / 250D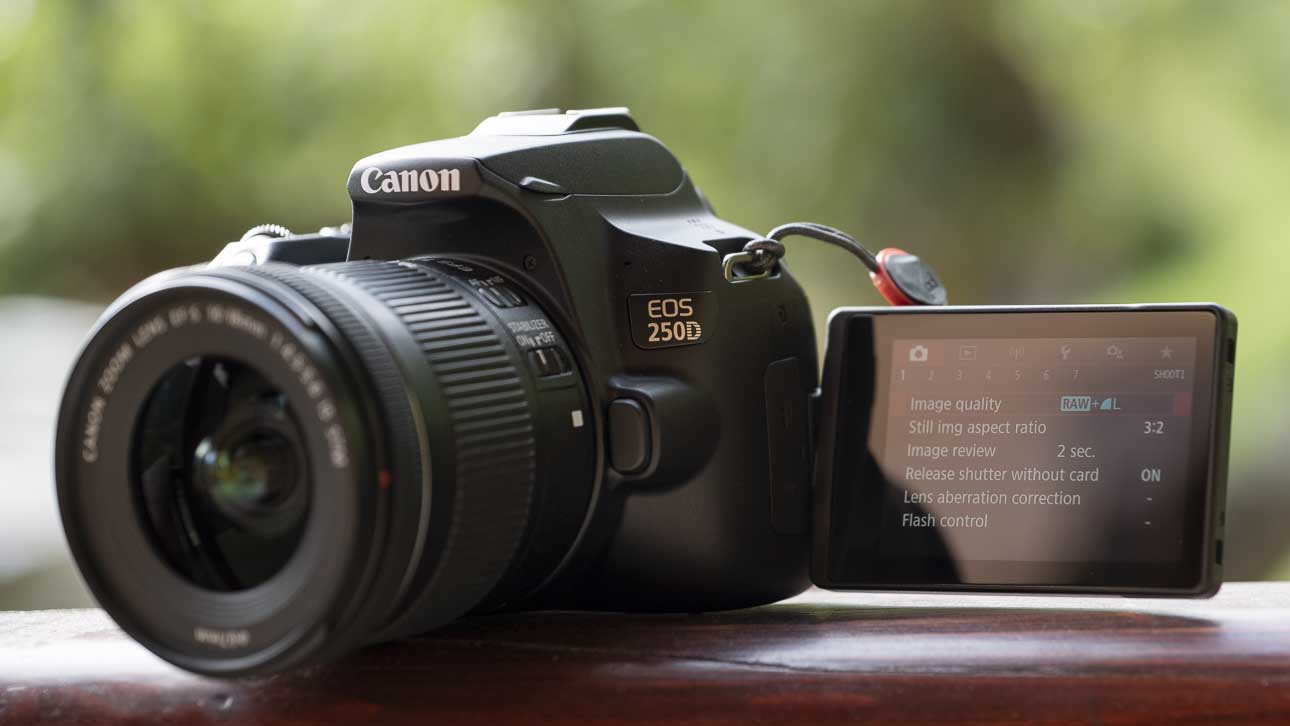 Specification
Camera type:

DSLR

Announced:

10th April 2019

Sensor:

24.1Mp APS-C CMOS

Lens mount:

Canon EF-S

AF System:

9-point phase detection, Dual Pixel CMOS AF (via Live View or Video)
Viewfinder:

Pentamirror 95% coverage optical viewfinder

Screen:

3-inch vari-angle touchscreen with 1,040,000 dots

Max video resolution:

4K (3840 x 2160) at 23.98, 25fps

Dimensions (W x H x D):

122.4 x 92.6 x 69.8mm

Weight:

Black/Silver 449g, White 451g
One of the most inexpensive options on our list of the best cameras for live streaming, the Canon EOS Rebel SL3 / EOS 250D offers a smaller sensor but also a portable body in a lightweight design.
You'll also benefit from a long battery life – one of the longest of all the live-streaming cameras on this list – as well as Bluetooth.
And let's not forget that the EOS 250D / Rebel SL3 can shoot 4K video. When you consider its relatively low price tag it seems like a compelling option for live stream vloggers.
Price when reviewed
£530
$599.99
For
APS-C format sensor
Phase detection autofocus system in video mode
Vari-angle touchscreen
Against
Switch between using the viewfinder and screen isn't seamless
Viewfinder AF system has just 9 AF points