The BioLite BaseCharge 1500 is a portable power station that provides an off-site power solution for photographers and videographers. With a capacity of 1521 watt-hours, the power station can power all your camera equipment, laptops and even a kettle when it's time for a break.
The power station stands out from the competition with a design that is well-considered for photographers. The larger-than-average top surface is an ideal place to rest cameras and other kit while working and is ideally designed as a charging station.
A nice touch for the large top area is that it features wireless charging, ideal for boosting your phone's charge just by popping it on top, although no cameras support the feature as yet. On the front, there's an easy-to-read Smart LCD Dashboard that provides real-time feedback on the system's use. As each additional device is plugged in, the power draw is shown on the panel. The BioLite BaseCharge 1500 has a maximum output of 1200 watts and a 2400-watt surge; this makes it capable of handling multiple imaging devices with ease.
The BioLite BaseCharge 1500 comes with multiple input and output ports, including three AC sockets, one 12V Carport Output, two 12V DC Barrel Ports, one Wall/Solar Input (HPP), one USB-C PD, two USB-A, and two USB-C. The addition of the USB Type-C PD 100W socket makes the BioLite BaseCharge 1500 a real asset for photographers and videographers looking to power their cameras and laptops directly.
The power station can be recharged from the wall, car, or through solar. The charging time to 80% is up to 13.5 hours with the included AC adapter or 8 hours with the AC adapter and USB-C PD which does sound a little slow. The power station can also be charged using the SolarPanel 100 (sold separately), allowing you to charge it in as little as 4 hours from solar.
The BioLite BaseCharge 1500 has a solid and reliable performance, making it suitable for small to medium-sized shoots. It also features an internal 12 Checkpoint Safety System that constantly monitors the unit, ensuring safe power sharing to a network of devices.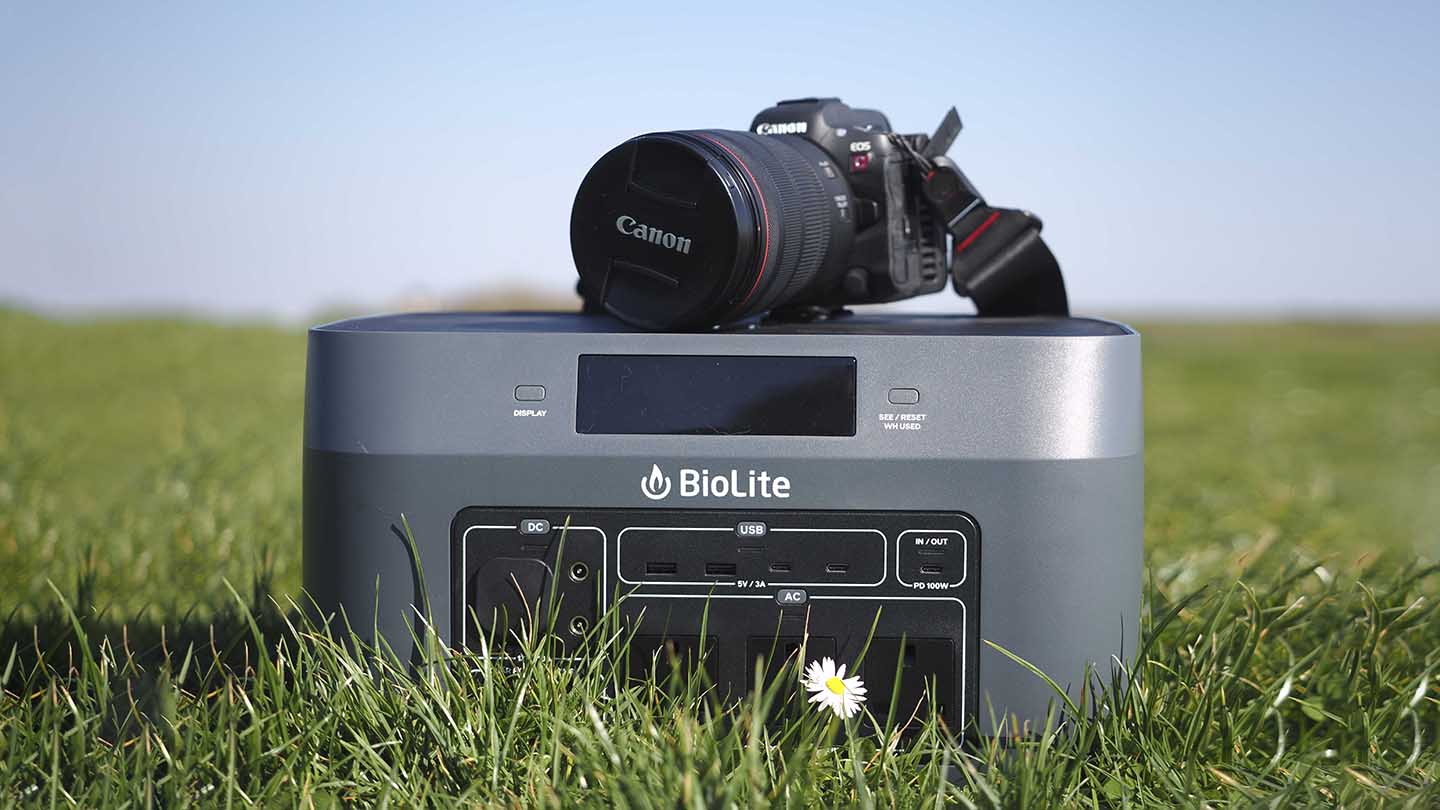 Design-wise, the power station outer is made from durable and sturdy plastic, with carry handles on each side that make it easy to lift and move.
The Resettable Energy Odometer is also a helpful feature that allows photographers to monitor their power usage and plan their energy needs for future trips and unexpected outages.