Sigma has announced the first full-frame 14mm lens with a maximum aperture of f/1.4. The Sigma 14mm F1.4 DG DN Art , price £1399.99 / $1599.99, will be available with the L-mount or Sony E-mount. As yet we have no information about whether it will become available in any other mounts.
That large aperture means that the Sigma 14mm F1.4 DG DN Art is two-thirds of a stop brighter than the Sigma 14mm F1.8 DG HSM Art for DSLR cameras. Consequently, the new lens allows 58% more light to reach the camera's imaging sensor. That's great news for use in low light and capturing images of the night sky.
The lens is designed with astrophotography in mind and it's constructed from 19 elements arranged in 15 groups with 1 SLD (Special Low Dispersion), 3 FLD ('F' Low Dispersion) and 4 aspherical elements. Sigma has paid particular attention to the image quality when the focus is at infinity and sagittal coma flare is said to be controlled very well so that small, bright points of light are super-sharp across the frame and at every aperture setting. This optical design also ensures good corner sharpness and well-controlled chromatic aberration.
Meanwhile, in-camera optical aberration correction profiles deal with any distortion or vignetting to help keep the lens' size and weight down.
The Sigma 14mm F1.4 DG DN Art features an aperture ring with an 'A' for auto setting to hand over control to the camera. This ring can be used with a click or 'de-clicked'.
Like the Sigma 20mm F1.4, DG DN Art, the 14mm F1.4 DG DN Art has a Lens Heater Retainer to keep a heat strip in place to prevent condensation from building up on the front element in cold conditions.
In addition, there's a filter holder at the end of the lens that accepts gel filter sheets. The lens comes with a cap with a holder for two of these soft filters.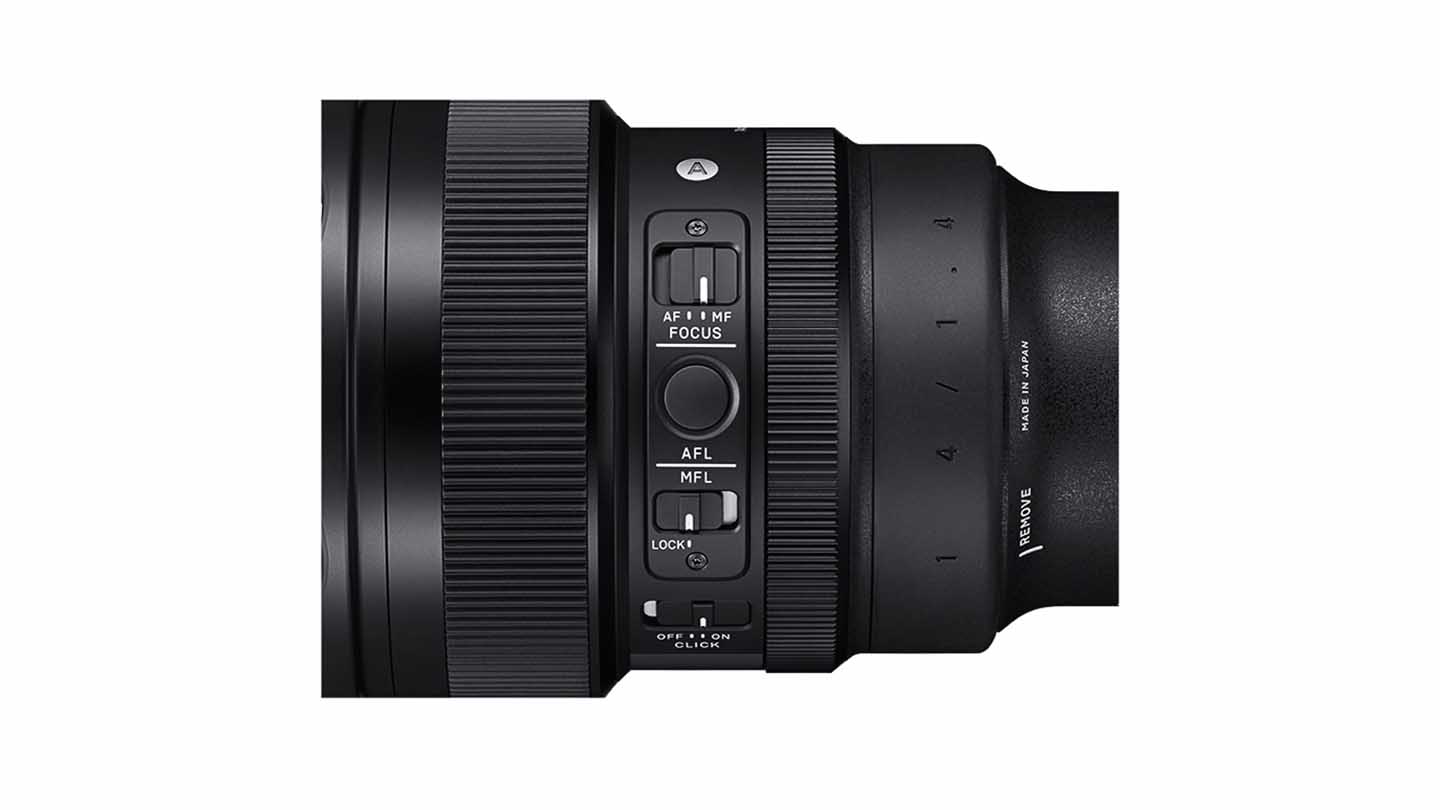 There's a manual focus lock (MFL) on the side of the barrel to enable photographers to set the focus to infinity and then lock it in place. There's also an AFL button that can be customised to access useful features, including an autofocus lock.
To help deal with the weight that is an inevitable aspect of such a wide, larger aperture lens, Sigma supplies the TS-141 Tripod Socket in the box to deliver a more balanced arrangement when the camera and lens are mounted on a tripod.
The 14mm F1.4 DG DN is the third lens to feature Sigma's new High-response Linear Actuator (HLA) motor to enable faster, smoother, quieter and more accurate focusing than a stepping motor.
Sigma 14mm F1.4 DG DN Art price and availability
Specification
Lens type:

Full-frame wideangle prime

Announced:

8th June 2023

Available mounts:

L-mount, Sony E-mount (FE)

Focal length:

14mm

Construction:

19 elements in 15 groups, with 1 SLD, 3 FLD, 4 aspherical elements

Weathersealed:

Yes

Coatings:

Super Multi-Layer Coating, Front element: oil and water repellent coating

Number of aperture blades:

11

Angle of view:

114.5°

Focus mechanism:

HLA (High-response Linear Actuator) motor

Closest focusing distance:

30cm

Maximum magnification ratio:

1:11.9

Maximum aperture:

f/1.4

Minimum aperture:

f/16

Filter type:

Rear

Supplied accessory:

Petal lens hood, magnetic front lens cap, rear cap

Dimensions (diameter x length):

101.4 x 149.9mm

Weight:

1170g
The Sigma 14mm F1.4 DG DN Art's price is £1399.99 / $1599.99, and it will go on sale on 23rd June 2023.